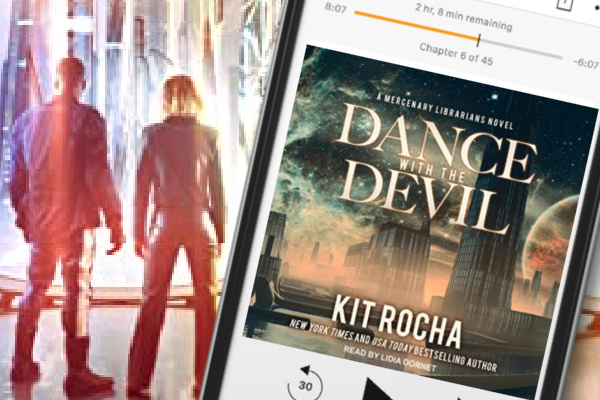 Narrated by Lidia Dornet, Dance with the Devil by Kit Rocha is the third audiobook in the Mercenary Librarians' fantasy series. Our band of mercenary librarians are gearing up to take down TechnoCorp. Failure is not an option. Filled with suspense, romance and a motley crew you'll fall in love with.
Dance with the Devil
by Kit Rocha
Series: Mercenary Librarians #3
Narrator: Lidia Dornet
Length: 12 hours and 11 minutes
Genres: Fantasy
Source: Publisher
Purchase*: Amazon | Audible *affiliate
Rating:

Heat Level:

Tobias Richter, the fearsome VP of Security of TechCorp is dead. The puppetmaster is gone, and the organization is scrambling to maintain control by ruthlessly limiting access to resources to Atlanta, hoping to quell rebellion. Our band of mercenary librarians have decided that the time for revolution has come.

Maya uses her wealth of secrets to weaken the TechCorps from within. Dani strikes from the shadows, picking off the chain of command one ambush at a time. And Nina is organizing their community—not just to survive, but to fight back. When Maya needs to make contact with a sympathetic insider, Dani and Rafe are the only ones with the skill-set and experience to infiltrate the highest levels of the TechCorps. They'll go deep undercover in the decadent, luxury-soaked penthouses on the Hill.

Bringing Dani face-to-face with the man who turned her into a killer. And forcing Rafe to decide how far he'll go to protect both of his families—the one he was born to, and the one he made for himself.

Victory will break the back of Power. Failure will destroy Atlanta.
Even though each audiobook in this series has its own romance and storyline, advances to the overall series arc, making listening in order of release a must.
Our motley crew is still working with the people in their area to build a community. The group has created a library, sick bay, school and community garden. They are organizing ways to share resources and assisting those in need. They've done this despite the greedy people at TechnoCorp who are only interesting in lining their pockets. Actions that benefit the wealthy in society, while young children are cloned and citizens experimented on.
In Dance with the Devil, we get Rafe and Dani's story. These two have been dancing around each other since this first audiobook, and the buildup of sexual tension and banter had me eager for their story. Rocha did not disappoint. They shared their backstories and introduced siblings. The two, despite their baggage, work well together. That is when they are not fighting their attraction to one another.
We get updates and spend some time with the crew, Nina, her librarians, along with Knox and his Silver Devils. I enjoy seeing them around the breakfast table fighting over pancakes and bacon.
We head to the "Hill" for some intel gathering. Their mission yields good contacts and allies, which allows them to take over and put others in power. The tale was suspenseful with plenty of action and while this story had some closure until TechnoCorp is stopped, I will worry about our Librarians and their community.
Lidia Dornet rocks the narration, skillfully capturing the voices of these characters. The story works well in audio format, bringing the scenes to life in vivid color.
Fans of science fiction, romance, suspense, strong Kick-Ass characters and team building will want to dive into this series.
Dance with the Devil by Kit Rocha delivered from romance to action. #MercenaryLibrarians #Fantasy #Audiobook #LidiaDornet #AudiobookReview #NewRelease
Click To Tweet

Stay Caffeinated!
Never miss a post by adding Caffeinated to your Inbox
Reading this book contributed to these challenges:
Related Posts