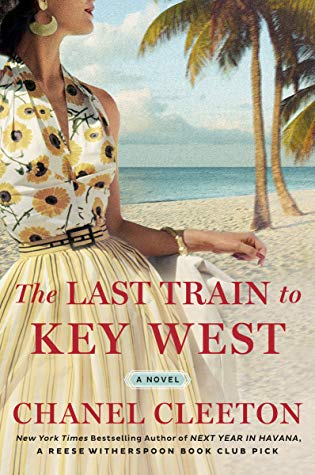 The Last Train to Key West
by Chanel Cleeton
Genres: Historical Fiction
Source: Publisher
Purchase*: Amazon | Audible *affiliate
Rating:
In 1935 three women are forever changed when one of the most powerful hurricanes in history barrels toward the Florida Keys in New York Times bestselling author Chanel Cleeton's captivating new novel.

Everyone journeys to Key West searching for something. For the tourists traveling on Henry Flagler's legendary Overseas Railroad, Labor Day weekend is an opportunity to forget the economic depression gripping the nation. But one person's paradise can be another's prison, and Key West-native Helen Berner yearns to escape.

The Cuban Revolution of 1933 left Mirta Perez's family in a precarious position. After an arranged wedding in Havana, Mirta arrives in the Keys on her honeymoon. While she can't deny the growing attraction to the stranger she's married, her new husband's illicit business interests may threaten not only her relationship, but her life.

Elizabeth Preston's trip from New York to Key West is a chance to save her once-wealthy family from their troubles as a result of the Wall Street crash. Her quest takes her to the camps occupied by veterans of the Great War and pairs her with an unlikely ally on a treacherous hunt of his own.

Over the course of the holiday weekend, the women's paths cross unexpectedly, and the danger swirling around them is matched only by the terrifying force of the deadly storm threatening the Keys.
Chanel Cleeton has become one of those authors whose books I will buy without reading the synopsis. If you are looking for a superb historical fiction with romantic threads, look no further than The Last Train to Key West.
While it isn't necessary to read her previous novels, there is a connection to Next Year in Havana and When We Left Cuba.
The story takes place in Key West, Florida, in 1935. When one of the Key's worst hurricanes hits the lives of three women will be irrevocably changed.
Helen Berner is nine months pregnant and a Key West native. Married to an abusive off-shore fisherman, she works long hours at the local diner, and daydreams about her husband's untimely death.
Marta Pérez has left her family behind in Cuba following her arranged marriage. Before beginning their life in New York, they are taking a mini honeymoon in Key West to get to know each other. (ties to the previous novels mentioned above)
Elizabeth Preston arrives from New York hoping to find the only person who can save her from what awaits her in New York.
The Last Train to Key West delivers the perspective of each woman and shares not one but three budding romances. Suspense, danger and intrigue await you along with the terrifying hurricane of 1935.
I loved how easily I slipped into the story. Each woman was fascinating, and their stories pulled me in. The characters were well-developed and Cleeton slowly weaved their storylines together as the storm built off the coast.
A captivating, heartfelt novel rich in historical detail shedding light on not only the brutal effects of the 1935 hurricane but the living conditions of some of our forgotten heroes.
Cleeton hooked me with her contemporary romance series, but has found her voice in historical fiction. I cannot wait for her next offering.
If you are looking for a superb historical fiction with romantic threads, look no further than The Last Train to Key West by Chanel Cleeton #NewRelease #HistoricalFiction #KeyWest
Click To Tweet
Related Posts