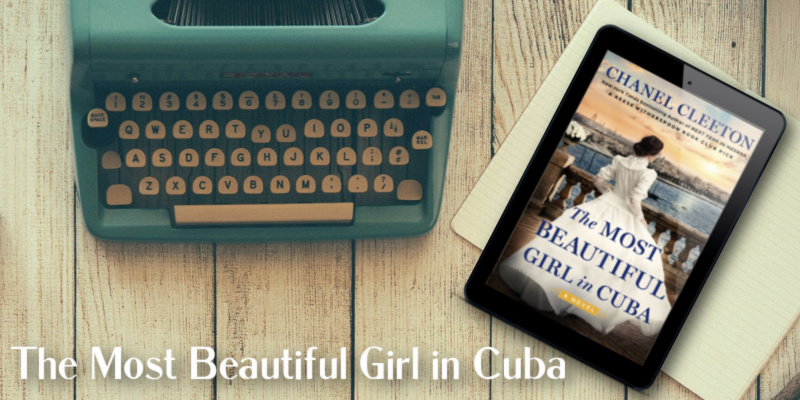 I have enjoyed all of Chanel Cleeton's books, but she has truly found her voice with historical fiction surrounding Cuba. The Most Beautiful Girl in Cuba shares the story of three women as it sweeps us back and forth between New York and Cuba during the Gilded Age. War, bravery and romance awaits you with this history inspired tale.
The Most Beautiful Girl in Cuba
by Chanel Cleeton
Genres: Historical Fiction
Source: Publisher
Purchase*: Amazon | Audible *affiliate
Rating:

Heat Level:
At the end of the nineteenth century, three revolutionary women fight for freedom in New York Times bestselling author Chanel Cleeton's captivating new novel inspired by real-life events and the true story of a legendary Cuban woman–Evangelina Cisneros–who changed the course of history.

A feud rages in Gilded Age New York City between newspaper tycoons William Randolph Hearst and Joseph Pulitzer. When Grace Harrington lands a job at Hearst's newspaper in 1896, she's caught in a cutthroat world where one scoop can make or break your career, but it's a story emerging from Cuba that changes her life.

Unjustly imprisoned in a notorious Havana women's jail, eighteen-year-old Evangelina Cisneros dreams of a Cuba free from Spanish oppression. When Hearst learns of her plight and splashes her image on the front page of his paper, proclaiming her, "The Most Beautiful Girl in Cuba," she becomes a rallying cry for American intervention in the battle for Cuban independence.

With the help of Marina Perez, a courier secretly working for the Cuban revolutionaries in Havana, Grace and Hearst's staff attempt to free Evangelina. But when Cuban civilians are forced into reconcentration camps and the explosion of the USS Maine propels the United States and Spain toward war, the three women must risk everything in their fight for freedom.
Inspired by real-life events and the true story of a legendary Cuban woman–Evangelina Cisneros, the Most Beautiful Girl in Cuba quickly pulled me in.
Cuba has been invaded by Spain and three times the Cubans have unsuccessfully tried to overturn their rule. Many people in Cuba and in the United States support Cuba's freedom. In an attempt to shed light on the war, all while selling more papers and swaying the public and President of the United States, two newspapers vie for headlines.
Newspaper tycoons William Randolph Hearst and Joseph Pulitzer are trying to outdo each other from stealing reporters to getting the inside scoop. It's 1896, and Grace Harrington is trying to make it in this cutthroat business. Cuba and the stories that emerge change the landscape of journalism, and Grace hopes to make a difference and prove herself.
Grace is independent and lived with her Aunt. Unlike the others in her social circles, she isn't interested in balls, marriage and exclusive invited to lavish parties where the five hundred try to outspend each other. An idealist, she hopes to put pen to paper and change the world.
Meanwhile, in Cuba, eighteen-year-old Evangelina Cisnero, a wealthy Cuban finds herself imprisoned. Separated from her family, there is little hope of escape. That is until Hearts hears of her story and enlists men to free her. She becomes the gem of the United States and through the paper and a book all handled by Journal; she becomes the voice of Cuba. Evangelina doesn't want any of this, but she loves Cuba and desperately wants it to have its freedom.
Marina Perez left her life of privilege to marry a Cuban farmer. They had built a good life with their daughter until the Spanish took their land. Her husband joins the revolutionaries and Marina finds herself in an interment camp. She cleans laundry and passes messages for the cause. Perez represents the people of Cuba from their loss to their endless passion to free Cuba. ¡Viva Cuba Libre!
Cleeton weaves history, human perseverance and rich characters to form a story that held me captive. Anyone who enjoys historical fiction will find themselves captivated by the story of these women and the world they live in. I closed the book and immediately wanted to learn more about Evangelina and other historical characters we meet.
The Most Beautiful Girl in Cuba by Chanel Cleeton shares the story of three strong women as Cuba endures the oppression of Spanish occupancy and a New York newspaper sets out to change the world. #HistoricalFiction #MustRead…
Click To Tweet

Stay Caffeinated!
Never miss a post by adding Caffeinated to your Inbox
Related Posts