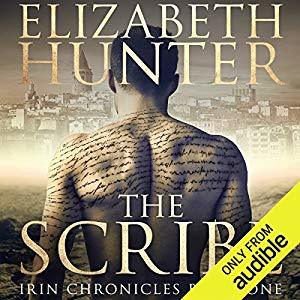 The Scribe
by Elizabeth Hunter
Series: Irin Chronicles #1
Narrator: Zachary Webber
Length: 9 hours and 24 minutes
Genres: Fantasy
Source: Purchase
Purchase*: Amazon | Audible *affiliate
Rating:

Narration: 5 cups Speed: 1.4x

Hidden at the crossroads of the world, an ancient race battles to protect humanity, even as it dies from within.

Ava Matheson came to Istanbul looking for answers, but others came looking for her. A reckless warrior guards her steps, but will Malachi's own past blind him to the truth of who Ava might be? While ancient forces gather around them, both Ava and Malachi search for answers.

Whispering voices. Deadly touch. Their passion should be impossible... or it could be the only thing that will keep them alive.

THE SCRIBE is the first book in the Irin Chronicles, the new paranormal romance series from Elizabeth Hunter, author of the Elemental Mysteries
The Scribe by Elizabeth Hunter is the first in the Irin Chronicles. Danger, romance, exotic locations and secret races. Steeped in mythology this fantasy series narrated by Zachary Webber kept me listening into the wee hours.
Fair warning, while there is an overall story arc to the Irin Chronicles the romantic thread sharing the story of Ava Matheson and Malachi, Scribe Warrior takes place over the first three audiobooks. I am told the rest of the series offers HEA's with each story.
Ava is a human who has heard voices her entire life. They come from everyone. Spoken in the same language all over the world. A language not known to man. She seeks solitude in remote place and travels the world freelancing as a photographer.
Malachi is one of the Fallen, an Irin Scribe Warrior. When he spots Ava something draws him near and he's surprised to find Grigori warriors following her. The Grigori are also fallen, but unlike the Irin who protect mankind, they seek its downfall. Malachi realizes this human woman is more. Could she be Irina? The tale that unfolds was addictive, romantic, frustrating, suspenseful and fantastic.
The story shared mythology, archeology, and history of the fallen, their children, angels etc and focuses on their children. Men are warriors and able to translate and preserve. Women are seers and singers. Both protect mankind and typically mate the other. One completes the other. A terrible tragedy has caused tension between the Irin men and the Irina. Because of this their race is dying.
I loved the motley crew of Irin who compromise Malchil's unit. Rhys, Leo, Max, and their leader Damien. We have not yet met the Irina and to be honest, Damien's wife sounds scary. LOL
I loved the world-building and the overall arcs of the Irin Chronicles. We get to travel to Istanbul and Cappadocia in this first book with the promise of more travel in the next. Hunter brings the world to life in vivid color as she weaves the complex hierarchy of this race and teases us with knowledge they do not possess.
The romance was sensual, complicated, frustrating, funny and heartbreaking as mated bond romances are. Their story isn't over, and to be honest I immediately began listening to The Singer, book two. This first book ends with a nasty cliffhanger. Oh lord, I would have been in the corner somewhere if I couldn't at least listen to the first few chapters on The Singer.
Zackery Webber narrators and does such a fantastic job. I have to be honest though. I love listening at bedtime and when I first begin a book, I always listen at 1.0x before speeding it up to a place that works for the story & narrator. Well, each night I would set a sleep timer for 30 mins and begin listening. Typically, I will reset this timer 2 or 3x's before drifting off. Three nights in a row, Mr. Smooth Webber lulled me to sleep before that timer went off. ?I kept listening to the same 10 or 15 mins of this audio over and over. I bumped it up to 1.4x on the fourth night. Do you know what happened?!? I stayed up until 4:45 am and finished this audio. ?I think this is one of his best narrations.
Fans of fantasy & romance who haven't already devoured the Irin Chronicles should do so. If you enjoy Dianne Duvall you will love this series.
All the eBooks are in Kindle Unlimited and you can get the audiobooks at a reduced price. (yes, you get to keep Audio if you cancel KU) Audiobooks one and three are in Audible Escape.
Steeped in mythology The Scribe written by Elizabeth Hunter & narrated by Zachary Webber kept me listening into the wee hours. #Fantasy #Romance #Suspense #IrinChronicles #KU #AudibleEscape
Click To Tweet
Reading this book contributed to these challenges:
Related Posts