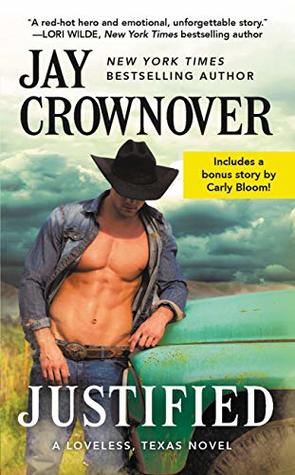 Justified
by Jay Crownover
Series: Loveless Texas #1
Genres: Romantic Suspense
Source: Publisher
Purchase*: Amazon | Audible *affiliate
Rating:

Heat Level:
The New York Times bestselling author of the Marked Men series delivers a romance about a rugged Texas sheriff who must protect the woman who was once his sworn enemy...

Case Lawton comes from a family of criminals. So as the sheriff of Loveless, Texas, he's determined to do everything by the book--until he's called to Aspen Barlow's office after a so-called break-in. The last thing he wants to do is help the woman who cost him custody of his son. But Aspen isn't the heartless lawyer Case remembers, and he starts to question his long-held grudge...

Aspen is scared for her life, and Case is her last hope for protection. But to get him on her side, she'll have to reveal the painful truth from all those years ago. Now, as they work together to track down a dangerous criminal, Case and Aspen learn to trust each other. And as the threats escalate, it becomes clear there's a thin line between love and hate... because there's nothing Case wouldn't do to keep her safe.
This was my first foray with author Jay Crownover. Fellow bloggers reviewed the prequel-novella, and I jumped at the chance to read Justified the first full-length novel in the Loveless, Texas series. A sexy Sheriff with an attitude and a skilled attorney tangle. Yum!
I love romantic suspense. It's one of my favorite subgenres of romance. Add in the "enemies to lovers" troupe with snark, wicked chemistry, and loads of danger and I am lost to the outside world.
The tale begins with a prologue explaining the animosity the hero feels towards our heroine and her thoughts on him.
Fast-forward nine-years and someone has broken into Aspen Barlow's new law office. Case Lawton always upholds the hold and despite his feelings he investigates. Case has worked hard to protect the town and overcome the crooked Sheriff's department his father ran. Aspen, has been separated from her husband, and is awaiting his signature to end her unhappy marriage. I loved the snark and tension between Aspen and Case. She is all fierce and independent; he is all law and order.
Things quickly escalate and it becomes clear someone wants Aspen dead. Case enlists his sister's help, and another lawman enters the picture to aid. Near misses, active shooters and twists kept me flipping the pages.
Amidst all the action and suspense a slow-building, tension packed romance begins. We learn about Aspen and Case's high school years, his stint in the services and more as the characters confront their past. Healing, forgiveness and acceptance were key themes. The author delivered plenty of feels and I became invested in the characters and small-town.
Some smoking hot sizzle, family, snark and plenty of suspenseful twists offered a delightful tale. I laughed, swooned and cheered even as I wiped a tear and swore. We get hints about the next novel, as Case's sister Kody and a lawman exchange heated snark. I cannot wait.
Unbroken is a prequel to this story and features another Lawson. I've grabbed it and hope to read it soon. Justified delivered and I look forward to the next book in the Loveless, Texas series.
Reading this book contributed to these challenges:
Related Posts