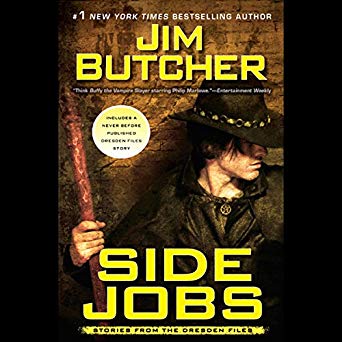 Side Jobs
by Jim Butcher
Series: The Dresden Files #12.5
Narrator: James Marsters
Length: 13 hours and 13 minutes
Genres: Urban Fantasy
Source: Purchase
Purchase*: Amazon | Audible *affiliate
Rating:

Narration: 5 cups Speed: 1.35x

Here, together for the first time, are the shorter from Jim Butcher's DRESDEN FILES series — a compendium of cases that Harry and his cadre of allies managed to close in record time. The tales range from the deadly serious to the absurdly hilarious. Also included is a new, never-before-published novella that takes place after the cliff-hanger ending of the new April 2010 hardcover, Changes.
My quest to listen to the Harry Dresden Files continues and Side Jobs: Stories From the Dresden Files by Jim Butcher is a compilation of novellas.
I usually like to save the novellas for last but because of what happened in Changes, I decided to listen now before begin Ghost Story.
Restoration of Faith– This tale is set before Storm Front and Harry is working to obtain his private detective license. He finds a young, feisty runaway and battles a bridge troll. This showcases Harry's humor and compassion.
Vignette– I think this was originally written for a PR piece, something that is handed out at a con. It is Harry and Bob discussing business cards. I love Bob.
Something Borrowed– from My Big Fat Supernatural Wedding Billy and Georgia's wedding. I loved finding out how Butcher came to name them. It made me roar with laughter. And who says supernaturals are scary. Wait until you meet the MIL. We battle a seriously pissed off enemy bent on revenge.
It's My Birthday Too – from Many Bloody Returns Shoes and Molly play a major role in this tale as Harry tries to give Thomas a birthday present.
Heorot – from My Big Fat Supernatural Honeymoon In which there is beer, Gard and a terrible monster to battle. This was creepy but we got to see Harry do a transference spell and save a young bride.
Day Off – from Blood Lite This was hilarious. Poor Harry tries to take the day off, but you know how that goes. Werewolves, explosions and mites ensue.
Backup – Thomas' point of view This was my least favorite, but it was interesting hearing and seeing how Thomas experienced the events.
The Warrior – novelette from Mean Streets This story focuses on Michael and a threat to him. I loved the story from beginning to end.
Last Call – from Strange Brew Take me out to the ballgame. Murphy and Harry team up to catch a creature who is manipulating beer.
Love Hurt -from Songs of Love and Death Harry and Murphy team up to solve some murders and end up at the county fair. I need more from this one.
Aftermath – novella from Murphy's point of view, set forty-five minutes after the end of Changes. Suspenseful, touching and it all made me what to dive into Ghost Story. Murphy only confirmed the grizzly ending of Changes. UGH!
This collection was fantastic, but even more than that I loved the brief explanations and insider info Butcher gave us at the beginning of each story. We learn how stories came about, how long it took him to write and heard awesome things about other authors.
Reading this book contributed to these challenges:
Related Posts