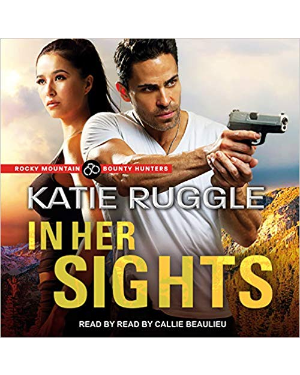 In Her Sights
by Katie Ruggle
Series: Rocky Mountain Bounty Hunters #1
Narrator: Callie Beaulieu
Length: 9 hours and 50 minutes
Genres: Romantic Suspense
Source: Publisher
Purchase*: Amazon | Audible *affiliate
Rating:

Heat Level:

Narration: 4.5 cups Speed: 1.3x

Five bounty-hunting sisters
Deep in the heart of the Rockies
Fighting to save each other
...and the men who steal their hearts

Bounty hunter Molly Pax fought hard for everything she has, turning the bail recovery business she shares with her sisters into an unqualified success. So when their sticky-fingered mother jumps bail and puts the childhood home up as collateral, Molly's horrified. To make matters worse, every two-bit criminal in the Rockies now sees her family's misfortune as their next big break.

She needs help, stat.

Enter rival bounty hunter John Carmondy: six feet of pure trouble, with a cocky grin to match. John's the most cheerfully, annoyingly gorgeous frenemy Molly's ever had the pleasure of defeating...and he may be her only hope of making it out of this mess alive
In Her Sights, is the first in the Rocky Mountain Bounty Hunters series by Katie Ruggle. As a first in series there was a lot to accomplish as Ruggle set the series up and introduced key characters. Snark, romance and plenty of action await you.
Molly Pax is a bounty hunter who has a successful business with her sisters catching bail jumpers. When Jane, her unreliable mother, jumps bail using their home as collateral Molly will do anything to get her back… including allowing rival bounty hunter, John Carmondy to help.
I loved the chemistry between John and Molly. They have this competition and back and forth banter. He wants her to work for him, she wants to hit him over the head. It was adorkable, sexy and delightful to watch as their relationship developed.
Because of Molly's mother, Molly has trust issues. Her whole focus has been on her siblings. She has fought to keep food on the table and a roof over their head. When things begin to fall apart John is there for her. He gently pushes his way in and I loved seeing Molly's resistance breakdown.
John Carmondy is a successful bounty hunter and Molly is the only one who doesn't realize how smitten he is with her. I fell easily for this sweet, patient, dog loving man.
The romance was served on the side as Ruggle set up the overall series but also introduced us to key characters. She did this all while providing hunts for bond skippers, deadly encounters, attempted burglary, blackmail and more. I loved the intense action that allowed us to get to know the sisters. Having said that, the romance suffered a little in the build-up but it did not deter my enjoyment.
Callie Beaulieu once again narrates for Ruggle and I was glad. She does a fantastic job with the characters, both male and female. I thought she enhanced the moments between Molly and John which provided some laughter and swoons.
If you enjoy romantic suspense and haven't yet tried Ruggle, In Her Sights, is the perfect place to start. The teaser for book two is included and involves Molly's sister Cara. It left me biting my nails in anticipation.
If you enjoy romantic suspense and haven't yet tried Katie Ruggle, In Her Sights, is the perfect place to start. #loveaudiobook
Click To Tweet
Reading this book contributed to these challenges:
Related Posts