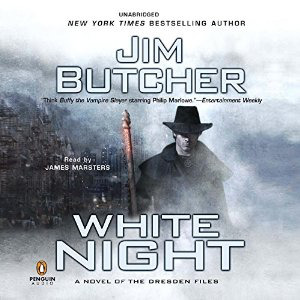 White Night
by Jim Butcher
Series: The Dresden Files #9
Narrator: James Marsters
Length: 14 hours and 12 minutes
Genres: Urban Fantasy
Source: Purchase
Purchase*: Amazon | Audible *affiliate
Rating:

Narration: 5 cups
The inspiration for the Sci Fi channel television series

In Chicago, someone has been killing practitioners of magic, those incapable of becoming full-fledged wizards. Shockingly, all the evidence points to Harry Dresden's half-brother, Thomas, as the murderer. Determined to clear his sibling's name, Harry uncovers a conspiracy within the White Council of Wizards that threatens not only him, but his nearest and dearest, too..
White Night, the ninth novel in the Dresden Files narrated by James Marsters was high on magic and battle scenes that kept me up listening into the wee hours. Find out what happens when Harry's number one suspect in a series of murders being written off as suicides.
Dresden teams up with Murphy off the book to solve the case and Murphy impressed me. Molly is showing her years and though I suspect Harry wants to kick her, even she has her moments and after a year under Dresden's apprenticeship we are seeing improvements. Mouse continues to be the best dog ever! If only he could share his thoughts like Oberon. (a nod to the Iron Druid Chronicles)
When Murphy asks Harry to look at a suicide we learn, we learn that someone is murdering female magic users that look like suicides. Butters shows Harry others. When Murphy is off the clock the two interview witnesses, and soon Harry forms a suspect. Could Thomas be involved?
Soon there are explosions, ghouls, vampires and the White Council involved. Harry has his hands full. The battle scenes were fantastic, detailed and intense. You can feel Butcher taking this series into darker territory as he weaves in some incredible moments, and twists. Don't worry he still adds plenty of humor to round things out.
I cannot get enough of these characters and world. There are so many quotable moments that resinated with me on life, pain, and loss.
James Marsters is a brilliant narrator and the perfect voice for Harry Dresden. I still marvel at the changes both in the audio and Marsters as we move into the tenth audiobook. If you haven't begun this series, I recommend grabbing your headphones!
[bctt tweet="Explosions, ghouls, vampires and the White Council keep Harry busy in White Night by Jim Butcher #iloveaudiobooks " username="kimbacaffeinate"]
Reading this book contributed to these challenges:
Related Posts