Today I am sharing two audiobooks in the Heartbreakers series by Lauren Blakely. Once Upon A Sure Thing and Once Upon A Wild Fling offer sweet, sexy, feel good romances with characters you'll want to root for. Grab a cup of hot cocoa, and check out my reviews. Be sure to ask Santa for the Heartbreakers series on Audio.
Once Upon a Sure Thing
by Lauren Blakely
Series: Heartbreakers #2
Narrator: Sebastian York, Andi Arndt
Length: 5 hours and 38 minutes
Genres: Contemporary Romance
Source: Author
Purchase*: Amazon | Audible *affiliate
Rating:

Heat Level:

Narration: 5 cups
It's so easy being best friends with a gorgeous, talented, charming guy.

Said no woman ever. Except me.

My friendship with Miller is a sure thing — he's my plus one, my emergency contact, and my shoulder to lean on. He's also been by my side helping me raise one helluva awesome kid who's the center of my world.

Nothing will change our easy breezy friendship. Until I have the bright idea to convince him to start a new band with me.

Trouble is, our sizzling chemistry in the recording studio is getting harder to ignore, no matter how risky it might be.

***

Sing sexy songs with the woman you've been lusting after? Get up close and personal as you croon to the woman you've wanted for years?

Piece of cake. NOT.

Performing with the sweet, sassy and insanely wonderful Ally is like one gigantic obstacle course of challenges for my libido. And my libido is one sexy love song away from kissing her senseless and taking her home.

Except that'd be crossing all kinds of lines. I'm not a serious kind of guy, and she's not a one-night-stand kind of woman. And there's more at stake here than our harmonies clashing.

Instead of making beautiful music together we could end up as a bad love song – or worse, out-of-tune forever.
I love a good "friends to lovers" romance and Lauren Blakely's Once Upon A Sure Thing delivered with a hot, sexy, realistic story about Miller and Ally. Two best buds who awaken something when they sing together. Music is passion. Am I right? Grab some wine and your headphones….
This is the second audiobook in the Heartbreakers series, featuring the Campbell brothers, all members of a popular boys band before it was disbanded. While you won't want to miss a single swoon-worthy moment or giggle these work as standalone.
Miller is a Campbell a former teen heartthrob and member of the Heartbreakers band. He misses singing in a group and decides to perform with a female partner. He listens to demos and imagine his surprise when the perfect voice a Miss Honey Lavender ends up being his best friend of six years, Ally.
Ally is a vocalist, she performs audiobooks, ads etc and submits song auditions. She has been playing safe, since she accepted guardianship of her niece. I loved Ally and immediately wanted her to have a happily ever after.
When they begin working on their songs in the studio the chemistry is OFF THE CHARTS, but will they risk their friendship for a chance at more. I adored their back and forth banter. Blakely is the queen of feel good romances and lovable characters. Miller is super sexy, a dirty talker and their move towards a romantic relationship was both hot and slow-burning.
We see character growth and a finding of oneself as Ally decides to be herself and Miller begins to think he can be a long-term relationship kind of guy. There were even a couple of tear-jerker minute, but I trusted Blakely. The ending and epilogue(s) left me smiling and anxious to begin Miles' story.
This story is narrated by Sebastian York and Andi Arndt. The two work really well together and I loved the duel narrative. We also get a surprise cameo from Erin Mallon. It was clever and perfect.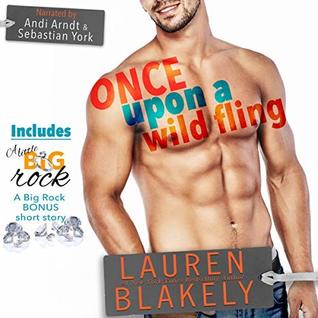 Once Upon A Wild Fling
by Lauren Blakely
Series: Heartbreakers #3
Narrator: Andi Arndt, Sebastian York
Length: 5 hours and 29 minutes
Genres: Contemporary Romance
Source: Author
Purchase*: Amazon | Audible *affiliate
Rating:

Heat Level:

Narration: 5 cups
here are a million reasons why Miles Hart isn't the man I should date but allow me to enumerate the top three.
He's friends with my brother, he's a single dad, and he's a sexy, in-demand rock star. He might as well wear an off-limits, totally unavailable, and don't-even-attempt-to-ride-this-ride sign.

And there's one more, little itty-bitty thing -- he's never asked me on a date.

That is, until he asks me to be his plus-one when his band plays at his high school reunion. It shouldn't be a big deal. After all, we're just friends, and no one is giving us our own hashtag. Except me . . .

***

I have three good reasons to keep my hands off Roxy Sterling—her brother's my business manager, my kid is the center of my world, and the last time I fell hard for a woman I was burned so badly that my interest in relationships has gone up in flames. But once I bring Roxy's body next to mine on the dance floor, I want all the not-safe-for-work things I can't have with her.
My brain knows there's no way for us to work, but tell that to my big mouth. Because the second she plants a hot, sexy kiss on me, I have the bright idea to ask her to keep being my plus one—turning one night into a few.

What's the harm in spending a little more time with her and having her by my side at all these events? Nothing at first, until I learn exactly how risky we might be
Once Upon A Wild Fling is the third book in Lauren Blakely's Heartbreakers series. This is a best friend's sister with a twist, romance that will leave you smiling. For those who listen, the audio contains a Big Rock bonus story with full cast of narrators fans that will not want to miss!
Miles Hart is a single Dad, and he's been crushing on Roxy Sterling forever. But her brother is his friend and managing business partner. The man is a financial guru. He can't risk messing that up.
Roxy and Miles are good friends, that doesn't mean she hasn't noticed how off the charts sexy he is.  The single Dad and friend of her brother may get her panties in a knot, but the man has never asked her out. She has been relegated to little sister.  When, Miles asks Roxy to be his plus one at his reunion things get interesting!
I loved their story, from Roxy and her personal decisions to Miles as he figures it all out. Blakely delivered all the feels and swoons as the two spent time together and shared some moments before my earbuds began to melt. I loved the twists and that the drama came in the form of character growth and some miscommunication. I confess, if not for their friends I would have locked these two in a closet.
Laughter, banter, delicious heat and adorkable epilogues made this short and sweet audio the perfect romance.  Sebastian York and Andi Arndt perfectly narrated from pacing to capturing the humor, emotions and heat.
Despite all the reasons these two shouldn't be together, I think like me you'll find one-hundred and one reasons why they are perfect for each other.
Bonus: The audiobook contains a bonus novella, Little Big Rock with a full cast of narrators including, Sebastian York, Andi Arndt, Joe Arden, and Erin Mallon. This is a dual narrative short you won't want to miss.
Once Upon A Sure Thing and Once Upon A Wild Fling by Lauren Blakely offered sweet, sexy, feel good romances with characters you'll want to root for. #loveaudiobooks #swoon
Click To Tweet
Reading this book contributed to these challenges:
Related Posts