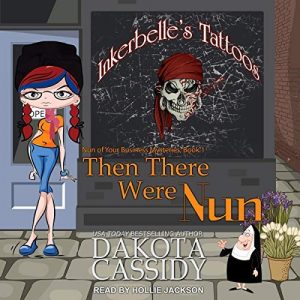 Then There Were Nun
by Dakota Cassidy
Series: Nun of Your Business Mysteries #1
Narrator: Hollie Jackson
Length: 6 hours and 28 minutes
Genres: Cozy Mystery, Paranormal
Source: Publisher
Purchase*: Amazon | Audible *affiliate
Rating:

Narration: 4 cups
My name is Sister Trixie Lavender, and I'm an occasionally possessed excommunicated nun. Okay, that's a lot to swallow at once. But it's true I was booted from the convent after doing something unspeakable. Something I had no control over. Something that lives inside me to this day, exploding out like that chestburster in Alien when I least suspect it. But I have help. My amazing friend Coop-the demon who saved me from an ugly end-remains by my side, loyal and true. She was Hell's best tattoo artist back in the day, and together with my designs, we're opening Inkerbelle's Tattoos and Piercings, right in the heart of Portland's most darling district, Cobbler Cove. Of course, our bid to fit in would be a little less rocky if I could help Coop assimilate with humans, keep a lid on our sassy talking owl, Livingston . . . oh, and if someone hadn't killed our landlord on day one-in our shop. This mystery-loving, bumbling ex-nun and her trusty demon sidekick are on the case! If I don't bumble my way right into my own demise first . .
A formerly possessed nun, demon, and a talking owl open a tattoo parlor …. Then There Were Nun by Dakota Cassidy, the first in a spinoff series offered a fun whodunit with humor, unusual friendships and just a touch of paranormal woo-woo.
Then There Were Nun is the first audio in the Nun of Your Business Mysteries. We first met these characters in Gone Witch Hunting, book seven in Cassidy's Witchless in Seattle series.
"Sister" Trixie Lavender was excommunicated from the church after a demon possessed her. Coop the person responsible for saving her is in fact a demon. Coop is a talented tattoo artist, who escaped hell, and is desperately trying to acclimate to human life. Together with Coop's trash talking owl, Livingston they move to small-town Oregon to open a tattoo parlor.
This was fun from seeing them negotiate a rental agreement on the building they want to lease, to Coop dealing with all the complications of being human. In ink hasn't even dried on the lease when the duo discover a dead body in their building. The dead body turns out to be their crooked landlord Crowley.
The police clear Trixie and Coop but the list of suspects is impressive. Trixie got a taste for detective work when she was in Seattle and the two set out to investigate. The murder-mystery was well done with a few red herrings and twists to keep the reader guessing. The wrap us was clever.
We meet new friends in Oregon, including another tattoo artist named Knuckles. Then there are locals, Higgs and his friend Jay who run the local homeless shelter. This was a fun cast of characters and I look forward to spending more time with them.
As one would expect from Cassidy we get clichés, humor and twists a plenty with the murder investigation.  We also get to see this duo establish roots in the community with a delightful thread involving Trixie as she befriends and helps others in the community.
Hollie Jackson offered a fun narration and elevated the humor, snark and unique characters.
Then There Was Nun was a delightfully funny tale and engaging murder mystery. I look forward to the next audio and spending time with the gang at the Inkerbelle Tattoo Parlor.
A formerly possessed nun, demon, and a talking owl open a tattoo parlor .... Then There Were Nun by Dakota Cassidy, offered a fun whodunit with humor, unusual friendships and just a touch of paranormal woo-woo. #loveaudiobooks
Click To Tweet
Reading this book contributed to these challenges:
Related Posts