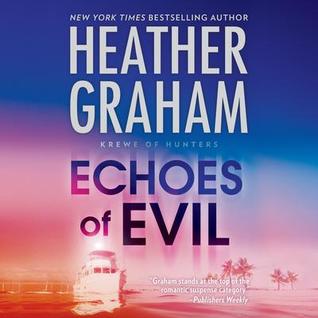 Echoes of Evil
by Heather Graham
Series: Krewe of Hunters #26
Narrator: Luke Daniels
Length: 8 hours and 19 minutes
Genres: Paranormal Romance, Mystery
Source: Publisher
Purchase*: Amazon | Audible *affiliate
Rating:

Heat Level:

Narration: 4 cups
Something lurks beneath the surface ...

Brodie McFadden is supposed to be on vacation, getting some sunshine and deciding if he wants to join his brothers and the Krewe of Hunters, a special paranormal investigation unit of the FBI. But a diving excursion with an old navy buddy to a historic shipwreck uncovers a crime scene-and the corpse is new.

Museum curator Dakota Kody McCoy just wants her Key West culture festival to succeed. She's always had a deep connection to her home, including being regularly haunted by some of the resident ghosts. Then, in the middle of a performance, a beloved local musician drops dead. It seems accidental, but Kody isn't so sure.

Brodie thinks the recent deaths are linked, and he needs help from Kody. Something about her festival is dangerous. And the threat is creeping ever closer. Has she uncovered a treasure from the past that someone will kill for?
Echoes of Evil by Heather Graham is the twenty-sixth book in the Krewe of Hunters paranormal romantic suspense series but will work as standalone. Once again I listened as Luke Daniels is narrating. Key West and a murder-mystery involving musicians quickly pulled me in.
I really enjoy Heather Graham's mix of paranormal woo-woo and romantic suspense. Her Krewe of Hunters series offers murder-mysteries, ghosts and romance. Within the series are mini-series featuring related characters or a setting. This mini-series comprises Fade to Black, Pale as Death, and Echos of Evil. This series features three-brothers who can see the dead including their dead mother.
Brodie McFadden a private investigator is in the Keys for a little R&R after a big case he helped his brothers with. That and he needs to decide whether he wants to accept the FBI's offer to join the Krewe of Hunters with his brother. A dead body and museum curator Dakota Kody McCoy soon have him investigating a murder-mystery, seeing ghosts and falling in love.
Once again Graham delivered an interesting mystery, and I enjoyed tagging along for the ride. Dakota can also see ghosts. Her ghostly companion proved to be interesting. I liked both Brodie and Dakota. The setting was familiar having lived in Florida and I could just imagine the local musicians playing. A few twists, some ghostly assistance and some fade to black passion kept things interesting.
I giggled when the murder victim appears as a ghost. Shenanigans and interesting pop-ins added humor.
One thing I love about this series is they way Graham mixed local history into her tales. Don't let the twenty-six books in series scare you off. Each book offers a complete mystery and romance. All have a tie in to the Krewe of Hunters, a special unit of the FBI that deals with unusual cases. All the members can speak with the dead. Most involve human evil and Graham writes a well-written plausible plot. I guessed who the culprit was, but not the reason until it was revealed.
Once again I enjoyed Luke Daniels' narration.  I confess I prefer when he narrates fantasy, but he gives every character a unique voice and his female voices are well done. I felt that Brodie's voice was too stiff and deep for my liking.
Echoes of Evil was a fun installment to the Krewe of Hunters and a nice wrap up to the McFadden brothers.
[bctt tweet="Come visit Key West for murder, music and romance #KreweofHunters Echoes of Evil by Heather Graham narrated by Luke Daniels #loveaudiobooks #NewRelease " username="kimbacaffeinate"]
Reading this book contributed to these challenges:
Related Posts