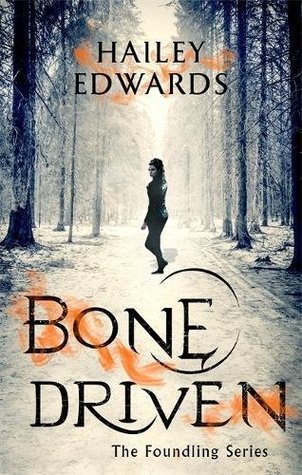 Bone Driven
by Hailey Edwards
Series: Foundling #2
Genres: Urban Fantasy
Source: Purchase
Purchase*: Amazon | Audible *affiliate
Rating:
The bayou is burning, the battle is just beginning - and Luce Boudreau is smack in the middle of no-man's land . . .

Life as a cop in Canton Town, Mississippi, is never dull - particularly when hiding deep within you is a demon bent on the apocalypse. Luce is doing her best to pretend her two worlds aren't crashing into each other, but what should be a routine arson investigation takes a shocking turn when Luce discovers a link between the suspects and her own dark secrets. There's no turning back, even though her search for the truth threatens to burn her old life down around her.

Lines are being drawn in a war Luce barely understands, and she just might be on the wrong side of them. Now she must embrace her powerful destiny, or the ones she loves most will pay the ultimate price.

(less)
Bone Driven is the second novel in the Foundling, urban fantasy series, by Hailey Edwards. Fantastic world-building, action and twists allowed me to devour this on a lazy Sunday afternoon.
Each book builds of the previous with overall arc threads. For this reason, I recommend beginning with book one Bayou Born.
Our tale picks up a week after the climatic ending of Bayou Born. Luce along with White Horse Security, her current partner, Rixton and Adam Wu, her new partner with the NSB investigate arsons and strange occurrences that can be tied to her siblings.

After the events of book one, Luce (Conquest) has accepted who/what she is, but she's determined to keep her humanity, protect her crew and save humans. She along with her coterie have agreed to join a shadowy subset of the FBI, known as the NSB. Their mission will be to hunt Charon and stop the apocalypse.
I love the blending of FBI cases, supernatural elements and mythology. Luce now knows she crossed dimensions to conquer Earth, along with her three siblings. She was the first to cross and something went wrong, thus we have Luce. Now one of her sisters is on the loose and a second may have crossed.
Mysterious arsons, mind-altering plants and dealing with a pushy new partner before she has told her loved ones and partner she is leaving have Luce at her wits ends.While Luce and Rixton investigate these terrible arsons that leave victims in their wake, she is also investigating supernatural creatures with the men of White Horse Security. Then Wu shows up claiming to be her new partner with the NSB. All the threads kept the pacing steady and allowed for Edwards to share more history and flesh out the world. I am in awe of the supernatural characters, sure the four horsemen of the apocalypse is nothing new, but Edwards created her own spin to the story.
Things are hot and cold between Luce and Cole. Their relationship is so complex, and yet there is this sizzling, undeniable chemistry. I love her interaction with the rest of the crew. Each member is complex from their personalities to their animals. Edwards has given them each a unique story on their previous lives and how they came to serve the Conquest. I loved scenes between her and Thom. He transforms into an all Black Manx. My favorite interact was between her and Santiago. Santiago is the geek of the crew and their talks of Christmas presents made me giggle. I really, really want to know what Miller is and cannot wait for Edwards; to reveal all!
I love all the twists, surprises and action on every page. Edwards kept me guessing and with each tidbit of knowledge I only craved more.
The overall arc is exciting. Will Luce remain Luce? Who is Adam Wu? What about the mysterious phone and the apocalypse? Fans of Ilona Andrews, Suzanne Johnson and Amanda Stevens will want to grab the Foundlings series.
[bctt tweet="Fantastic world-building, action and twists will have you devouring Bone Driven by Hailey Edwards #urbanfantasy " username="kimbacaffeinate"]
Reading this book contributed to these challenges:
Related Posts