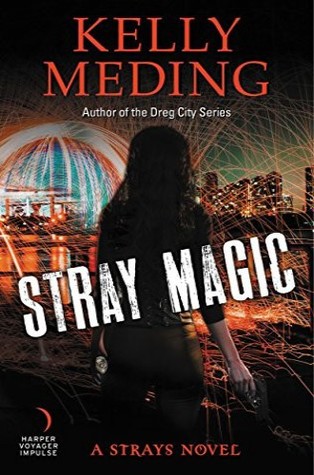 Stray Magic
by Kelly Meding
Series: Strays #1
Genres: Urban Fantasy
Source: Publisher
Purchase*: Amazon *affiliate
Rating:

Heat Level:
Shiloh Harrison was hoping for a few days off to recover from a particularly nasty assignment, preferably with the help of the talented hands (and, well, the rest of his body too) of her sexy boyfriend, Vincent. But when a group of vampires takes an entire trailer park hostage, there's nothing to do but make her apologies and get to the scene.

Such is the life of a Federal Marshal in the Paranormal Investigators Unit.

Yet this isn't like her typical track-and-nab case: something is going on that has vampires scared, and it takes all her strength not to imagine what could frighten such powerful creatures. Unfortunately, she doesn't have that option. Her boss is MIA, someone is snatching vampires, and there's a ticking clock that can only end one way: a bloodbath.

Unless she can stop it.
My quest for all things urban fantasy continues, and I was delighted to stumble upon Stray Magic by Kelly Meding, the first in the Strays series.  Dark magic, necromancy, and a snarky kick-ass half human-half djinn heroine, gave way to an addictive tale. I cannot wait for more!
Shiloh Harrison is second in command of a Federal Marshal Paranormal Investigators Unit set in a world where only wolf shifters and vampires have exposed themselves to humans. Her team comprises half-human/half supernatural agents. They handle cases involving the paranormal. The US has two special units, one on the east coast and one on the west. Harrison's unit is in a rural Maryland, on the east coast. Their compound is an old tricked out homestead with security and a supercomputer.
Hells yes! With, so many of my favorite urban fantasy series ending I am thrilled this series started off with a bang. From the brilliant world-building to the motley crew, and parental units that will give you nightmares.  There is even a sexy four-hundred-year-old vampire. I am doing the happy dance!
I first met our heroine, in the novella, Freak House. published in the Carniepunk Anthology. Someone holds Shiloh's father, an ancient djinn, captive along with others. During the rescue Shiloh meets Julius the current commander of her paranormal unit. While unnecessary to read Freak House,  I appreciated the history.
When vampires take over a trailer park, they call the unit in, only their leader Julius is missing putting Harrison in command. Vampires are missing as are werewolves and it has both in fear. The tale that unfolds was addictive with plenty of action and banter. The clock is ticking and Harrison will have to trust a master vampire to aid her. Before the case is over, Harrison and her team will meet a revenant and necromancer, encounter creepy dark magic, face death, seek answers from a witch and strike a deal that will cost Harrison something she cannot get back.
I loved Stray Magic from beginning to the end. The pacing and world-building was fantastic, addictive and filled with characters I want to learn more about. The case wraps up enough to give us a sense of closure.  However, the werewolves are still missing which has left me counting down the days until the release of Stray Moon. Melding is a seasoned author and I am sorry I haven't explored her books sooner.
The second novel, Stray Moon, releases November 12th. I for one cannot wait! I am hoping to see this series in audio format. Depending on the narrator, I may jump over to audio as I have found urban fantasy to be a superb listen.
[bctt tweet="Stray Magic by Kelly Meding just might be my new favorite #urban fantasy series. A snarky kick-ass heroine, supernatural creatures, and a twisted case for the Federal Marshall Paranormal Unit make this a #mustread #NewRelease" username="kimbacaffeinate"]
Reading this book contributed to these challenges:
Related Posts