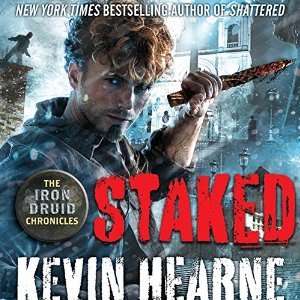 Staked
by Kevin Hearne
Series: Iron Druid Chronicles #8
Narrator: Luke Daniels
Length: 11 hours and 21 minutes
Genres: Urban Fantasy
Source: Purchase
Purchase*: Amazon | Audible *affiliate
Rating:

Narration: 5 cups
When a druid has lived for two thousand years like Atticus, he's bound to run afoul of a few vampires. Make that legions of them. Even his former friend and legal counsel turned out to be a bloodsucking backstabber. Now the toothy troublemakers—led by power-mad pain-in-the-neck Theophilus—have become a huge problem requiring a solution. It's time to make a stand.

As always, Atticus wouldn't mind a little backup. But his allies have problems of their own. Ornery archdruid Owen Kennedy is having a wee bit of troll trouble: Turns out when you stiff a troll, it's not water under the bridge. Meanwhile, Granuaile is desperate to free herself of the Norse god Loki's mark and elude his powers of divination—a quest that will bring her face-to-face with several Slavic nightmares.

As Atticus globetrots to stop his nemesis Theophilus, the journey leads to Rome. What better place to end an immortal than the Eternal City? But poetic justice won't come without a price: In order to defeat Theophilus, Atticus may have to lose an old friend.
My audio binge continues with Staked by Kevin Hearne the eighth novel in the Iron Druid Chronicles. This is the most current novel in the series, excluding the novellas and will leave me waiting for the final book in this series.
Staked was action-packed, and shared events from the past as our characters dealt with trolls, witches, vampires and more.
Once again we a treated to three POVs and three storylines but unlike Shattered these work seamlessly.
Atticus has issues with the vampires and their leader Theophilus. Enough is enough and its time to take a stand. To do this, he will face danger, severe ties, suffer loss and will end up carrying guilt but with a price on the druid's heads, Atticus is determined to be the victor. This thread has him reconnecting with characters from previous books as he does quite a bit of traveling in his quest. The Hammers of God was an interesting thread and I loved how Hearne brought them back in and feed my quest for knowledge regarding them.  The Dark Elves also made an appearance and continue to fascinate me.
After Granuaile 's experiences in India, she is determined to be free of the mark, the Norse God Loki set upon her.  To do this she enlists the help of the gods and the witches in Poland. This was an intense thread that has her facing several Slavic nightmares. She also continued her quest regarding her stepfather. I like Granuaile but I would be lying if I didn't say that her POV sometimes grates on my nerves. She is passionate but also youthful in her reactions.
The third POV is Owen, who has decided to teach again and is spending time with a certain werewolf and her clan. In Staked, Owen has a wee bit of trouble with trolls. This thread was intense, heartbreaking and tied to the overall series ARC as Owen makes a startling discovery concerning an enemy.
Oberon and Orliath were present and added humor, emotion, and talks of food to the story. While I enjoy Orilath, but Oberon continues to steal the show. One of my favorite side stories in Staked had to do with a ghost and I enjoyed how Hearne both shared events from Atticus's past and addressed ghostly entities.
The stories eventually wove together when Atticus and the other druids join him in Rome as he takes on Theophilus. These final scenes were intense and had me sitting up straight and listening intensely.
Luke Daniels continues to narrate the series and I think he will be as sad as I will be when the final novel releases. Thankfully, he narrates Hearne's new series and many other titles.
Loss, threats, closure to arc threads and a build up to what is still to come made Staked an addictive addition to the Iron Druid Chronicles. Non-stop action, humor and Atticus's charm *winks* had me devouring Staked in a single day.
Loss, threats, closure to arc threads and a build up to what is still to come made Staked an addictive addition to the Iron Druid Chronicles by Kevin Hearne. #loveaudiobooks #LukeDaniels
Click To Tweet
Reading this book contributed to these challenges:
Related Posts