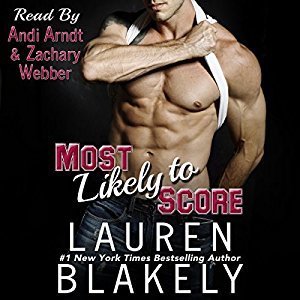 Most Likely to Score
by Lauren Blakely
Narrator: Andi Arndt, Zachary Webber
Length: 7 hours and 5 minutes
Genres: Contemporary Romance
Source: Author
Purchase*: Amazon | Audible *affiliate
Rating:

Narration: 4.5
It seemed like a good idea at the time…
As the team's publicist, I need a football player to be the face of our charity calendar, and Jones Beckett needs a savvy PR woman to manage his new sponsorship deal.
A simple give and take, and I'm sure I'll have no problem following my iron-clad rule — don't date a player. And never ever fall for one. No matter how charming, big-hearted and devilishly clever the man is.
But you know what they say about best laid plans…
Once I start spending my off-season days and nights with Jones, I'm following a brand new playbook, one that has me falling hard for the incorrigible flirt — heart, body and mind.
That's against the rules, and now what seemed like a bright idea has turned into a dangerously forbidden one.
***
It was supposed to be an I-scratch-her-back-she-scratched-mine kind of arrangement. And man, did Jillian ever drag her nails down my back on one hell of a hot night. Okay fine, it was several hot nights on the road.
Now we're back in town and it's time to set the play clock back to when we were simply player and publicist. Given the way the last few years have gone, I can't risk this deal. Trouble is, I want more than than just another night with her.
What's a guy to do when he's always been most likely to score, but the woman he's falling for is way off limits?
Puppies and kittens! Most Likely to Score written by Lauren Blakely and narrated by Zackery Webber and Andi Arndt delivered a delicious romance with heart and heat.
The gist of the story is this; Jillian Moore, a Chinese American publicist for the San Francisco Renegades Football team helps, Jones Beckett the team's star receiver clean up his image with charity work, photo shoots, and puppies. This forces the two to spend time together away from the team and provided the temptation to act on their attraction to each other. This was such a fun story featuring the forbidden romance trope.
Jillian is such a sweetheart and while Jones has a reputation as a player, the man is totally swoon-worthy. I absolutely loved the back and forth banter between them. While the chemistry is there from the beginning, mutual respect and friendship soon gave way to passion.
It was fun seeing this couple transition from time away back to reality. A romance between them could ruin both of their careers. I loved how Jones tried to protect Jillian's reputation. It was total swoon overload. Blakley kept the drama low allowing the conflict to come from outside the relationship. This allowed me to champion this couple as I rooted for a happily ever after.
Book dates with Lauren Blakley always result in insane amounts of smiles, laughter, blushes and total escapism. Her characters are down to earth and very real, making them relatable. Then she adds in adorable animals making me squee.
I discovered narrator Zackery Webber through Blakely and he does a fantastic job with Jones. He captures his personality and enhanced an already great tale. Andi Arndt brought out Jillian's sweetness and nailed her struggles over her attraction to Jones. It felt honest and had me laughing.
Most Likely to Score delivered a feel-good romance, with charming, lovable characters and adorable animals. I devoured this and pulled off my headphones smiling.
[bctt tweet="Most Likely to Score written by Lauren Blakely and narrated by Zackery Webber and Andi Arndt was such a feel-good romance with passion, heart, and heat. Ooo and puppies! #audio #iloveaudiobooks" username="kimbacaffeinate"]
Reading this book contributed to these challenges:
Related Posts