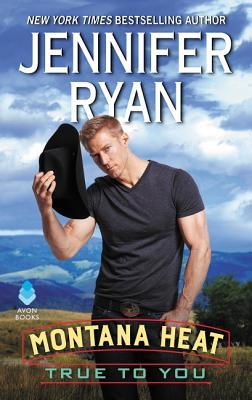 True to You
by Jennifer Ryan
Series: Montana Heat #2
Genres: Romantic Suspense
Source: Publisher
Purchase*: Amazon *affiliate
Rating:

Heat Level:
A Montana Man risks everything for the woman he loves . . .

Undercover DEA Special Agent Dawson King spent five months in a Montana prison establishing a fake identity to take down a ruthless drug dealer and put him behind bars. Except there's a wild card . . . the killer's beloved daughter. Cara Potter may appear to be on the right side of the law, but King has learned the hard way to trust no one—even someone as tantalizing as the coffee shop owner. She's irresistible . . . but is she also dangerous?

From the moment he enters her life, King makes Cara . . . nervous. The handsome drifter says he wants to get his life together . . . but there is something about him that doesn't quite ring true. Cara wants to believe in him, yet she holds back despite the way he awakens dormant dreams and leaves her breathless with his sexy smile, steamy kisses, his every touch.

When the explosive truth comes out and she's betrayed by the ones she loves, Cara must decide—can she trust her heart, or should she listen to her head?
True to You by Jennifer Ryan is the second book in the romantic suspense series Montana Heat. The tale features DEA Special Agent Dawson King as he goes undercover to takedown, Iceman, a notorious drug dealer. Things get complicated when King gets close to the drug lord's daughter Cara Potter. Suspenseful and well-paced Ryan delivered a heartwarming romance that swept me away.
Coffee Dates with True to You
First Date: King is a sniper and special agent for the DEA. He spends five months in jail undercover to create a solid background and poses as an ex-con looking to get back on his feet. Cara Potter is the daughter of a drug lord. She runs the Crossroads Cafe and has earned a reputation for helping ex-cons turn their lives around. It's King's job to get a job at the cafe and take up residence in the rooms Cara offers. His mission is to get close to Cara, see if she is involved in her father's business and find a way to take down the infamous Iceman. Cara isn't at all what King expected and I found myself caught up in their story. King made me giggle at the beginning and I connected right away, but an incident early in made him completely swoon-worthy.
Second Date: Woozier, Cara's family tree is downright scary and Ryan did an excellent job of sharing her background and family while impressing me with Cara's strength, resilience and determination to carve out a better life for herself and the people she tries to help.  King is a sweetie and like Cara, I cannot help being attracted to him even as he poses as an ex-con. Ryan builds up the world that surrounds Cara as King investigates. From the beginning, there is sizzling chemistry between them, but King tries not to cross the line as Cara thinks about breaking her own rules and seducing him. I loved the Crossroads Cafe and my stomach growled with talk of cherry tarts and cinnamon donuts. I found secondary characters like Tanya the waitress, Cara's hermit uncle and a young man trying not to follow in his Dad's footsteps interesting. Ryan not only developed them but weaved them into the overall storyline.
Third Date: Action, suspense, and climatic scenes had me reading into the wee-hours as both Cara and King find themselves in danger. The relationship suffers when all is revealed and while it had its sweet moments, I wasn't totally sold on Cara's reasoning or at least the way she acted towards King. The suspense thread ended around the eighty percent mark as Ryan focused on the romantic aspect of this tale. Grab some tissues and prepare for some awe moments. This was a great couple and despite some bumps, I had to find out if they'd get a happily ever after. You'll have to go on your own date to find out.
True to You delivered plenty of action, heat and heartwarming moments making it the perfect read for a cold winter's night. While this is part of a series, Ryan allows each book to have its own case and romance, so feel free to dive in.
[bctt tweet="True to You by Jennifer Ryan delivered plenty of action, heat and heartwarming moments making it the perfect read for a cold winter's night. #NewRelease #RomanticSuspense" username="kimbacaffeinate"]
Reading this book contributed to these challenges:
Related Posts