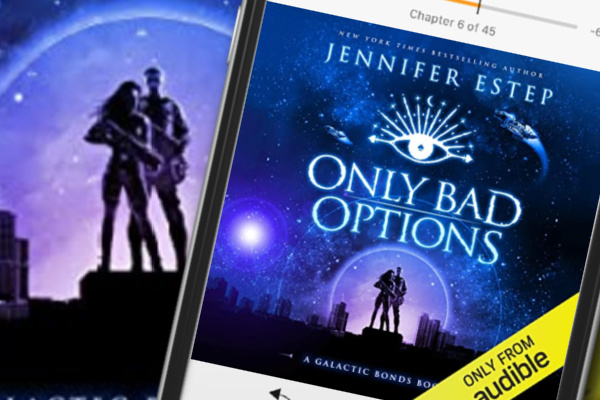 Narrated by Lauren Fortgang & James Fouhey, Only Bad Options is the first audiobook in the Galactic Bonds science fiction romance series by Jennifer Estep. This space opera delivered suspense, romance, house politics and more. Fans of Consortium Rebellion will want to add this one to their list.
Only Bad Options
by Jennifer Estep
Series: Galactic Bonds #1
Narrator: Lauren Fortgang, James Fouhey
Length: 12 hours and 35 minutes
Genres: Romance, Science Fiction
Source: Publisher
Purchase*: Amazon | Audible *affiliate
Rating:

Narration: 4.5 cups Speed: 1.3x

A WOMAN WHO SEES EVERYTHING . . .

Few people know the name Vesper Quill. To most folks, I'm just a lowly lab rat who designs brewmakers and other household appliances in the research and development lab at the powerful Kent Corp. But when I point out a design flaw and a safety hazard in the new line of Kent Corp starcruisers, everyone knows who I am—and wants to eliminate me.

I might be a seer with a photographic memory, but I don't see the trouble headed my way until it's too late. Suddenly, I'm surrounded by enemies and fighting for my life.

I don't think things can get any worse until I meet Kyrion Coldren, an arrogant Regal lord who insists that we have a connection, one that could be the death of us both.

A MAN WHO CAN'T FORGET HIS PAST . . .

The name Kyrion Coldren strikes fear in the hearts of people across the Archipelago Galaxy. As the leader of the Arrows, the Imperium's elite fighting force, I'm used to being a villain, as well as the personal assassin of Lord Callus Holloway. Even the wealthy Regals who live on the planet of Corion are afraid of me.

But everything changes when I meet Vesper Quill. I might be a powerful psion with telepathic, telekinetic, and other abilities, but Vesper sees far too many of my secrets.

Thanks to an arcane, unwanted quirk of psionic magic, the two of us are forced to work together to unravel a dangerous conspiracy and outwit the dangerous enemies who want to bend us to their will.
We meet Vesper Quill, a seer with photographic memory who works as a lab-rat at Kent Corp. House Kent also designs star cruisers and when one crashes, it is Vesper who discovers why. When she realizes there is a coverup, she finds herself on a ship bound for danger. To survive, she'll have to fight and place her trust in a Kyrion Coldren.
The tale that unfolds has houses fighting for more power, evil lords and a few swoons as Vesper finds herself bonded to Kyrion Coldren, the leader of the Arrows, the Imperium's elite fighting force.
The world-building was delivered as the story unfolded and we learned about the different houses, the tech wars and the evil lord who wants Coldren bonded and in his grip.
Vesper is smart, exceptional with gadgets and leary of people. Giving her history this all makes sense. The one thing she craves is to belong. Coldren, however, watched his parents suffer because of their bonding and has shut himself off from others. He has many enemies, from those who wish for his title to those that want to use him for his lineage.
The romance will be a slow burn over the course of the series. We are already seeing character growth. Now we need trust. I loved their interaction and the denial as we witnessed the bond grow. Both deserve a happily ever after and I am rooting for them.
Lauren Fortgang & James Fouhey narrated giving us alternate POVs from Vesper and Coldren. I enjoyed listening and felt they captured the characters' unique personalities. The two work well together, from pacing to tone.
Perfect for fans of science fiction romance, space operas and romantic suspense off planet. Estep pulls the reader in and holds them until the end. Looking forward to the next!

Stay Caffeinated!
Never miss a post by adding Caffeinated to your Inbox
Reading this book contributed to these challenges:
Related Posts