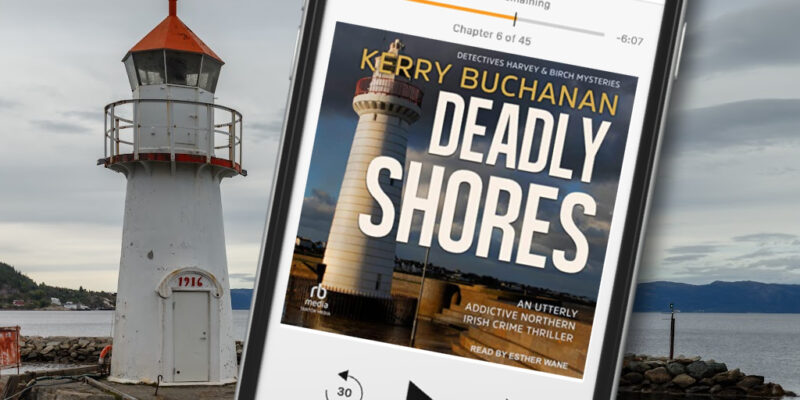 Deadly Shores, written by Kerry Buchanan, is the third entry in the Harvey & Birch Irish Crime Thrillers audio series. A tipoff regarding the boatyard in Bangor on Boxing Day soon has the detectives dealing with murder. A suspenseful tale with plenty of twists.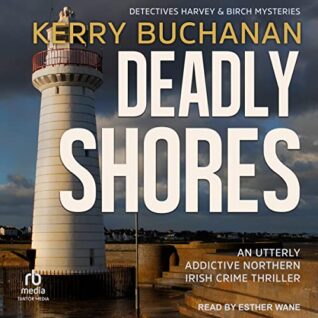 Deadly Shores
by Kerry Buchanan
Series: Harvey and Birch #3
Narrator: Esther Wane
Length: 9 hours and 20 minutes
Genres: Crime Fiction
Source: Publisher
Purchase*: Amazon | Audible *affiliate
Rating:

Narration: 4 cups Speed: 1.5x

TWO SHIPS IN THE NIGHT.
ANOTHER DEAD BODY.
NO SAFE HARBOUR.

The tip-off comes just as the Christmas roast is being served. Smugglers coming into a boatyard in Bangor.

Detectives Asha Harvey and Aaron Birch are sent in to investigate. It means being pulled away from pulling crackers, but in truth they're both a bit relieved. Chief Superintendent Yvonne Patterson has been sidelining them lately — and this case could be big.

The illicit cargo is long gone by the time Asha and Aaron arrive, but local man Phil Johnston is caught on the boatyard's CCTV. The same Phil Johnston who's broken into and planted a brick of cocaine in the boatyard manager's house.

But before anyone can declare it case closed, the driver who delivered the boat is found murdered in his hotel room.

Harvey and Birch have found themselves caught in a deadly storm. Will they sink or swim?
Narrated by Esther Wane, Deadly Shores proved to be another intense case for Detectives Asha Harvey and Aaron Birch. After their last case shook the department, Chief Superintendent Yvonne Patterson has been sidelining the duo and separating them. But the holidays have them once again paired off to inspect a boatyard for possible smuggling and the case soon blows into something bigger when the deliver driver is found murdered.
Set in Belfast, Buchanan pulled me in from the banter between the detectives to the interesting clues and suspects they encounter. The case was intense, with plenty of twists, suspects, and coverups. I enjoyed how these two detectives work together. Despite being three books in, I can't say I know either beyond the job, but that is often the case in procedural novels.
The case is well done with turns that kept me listening into the wee hours. They'll have to deal with human trafficking, police corruption, and drug trafficking before it's all over.
Told from multiple points of view, including those of suspects, Buchanan pulls the listener in and Ester Wane's narration from accents to tone enhances the overall story. The tale lends itself to the audio format and I am hoping we get more. There are only three books in the series at present.
My only complaint rests with the audio production itself. Swallows and breaths were not edited out. It was a shame. As the narrator herself was superb.

Stay Caffeinated!
Never miss a post by adding Caffeinated to your Inbox
Reading this book contributed to these challenges:
Related Posts