Narrated by Claire Duncan, The Founders by Stacy M. Jones is the first novel in the FBI Agent Kate Walsh series. The story takes us to Boston where a serial killer has it out for ancestors of the founding fathers. Twists and turns await you in this suspenseful FBI thriller.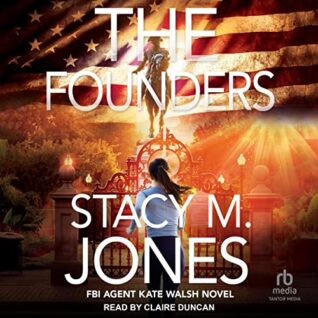 The Founders
by Stacy M. Jones
Series: FBI Agent Kate Walsh #1
Narrator: Claire Duncan
Length: 10 hours and 19 minutes
Genres: Suspense Thriller
Source: Publisher
Purchase*: Amazon | Audible *affiliate
Rating:

Narration: 4 cups Speed: 1.5x

A serial killer has the city of Boston in his grip. He's killing with antique Revolutionary War weapons and leaving bodies at markers on the city's historical Freedom Trail. No one is safe – especially those with ancestry ties back to the Patriots.

FBI Special Agents Kate Walsh and Declan James rush to the aid of local authorities to help catch a killer in their hometown. As a descendant of one of the signers of the Declaration of Independence, Agent Walsh is in the killer's crosshairs. Part madman and part mastermind – no one knows who is next.

With potential ties to an underground subversive group known as The Founders, can the FBI stop a killer whose wake of destruction has only just begun or will the city become paralyzed by this killer's centuries-old political agenda?
I've been on a bit of a crime thriller, murder mystery binge which brought me to The Founders. This is the first in the FBI Agent Kate Walsh series featuring Agent Kate Walsh and her partner, Declan James.
Set in Boston, the story introduces us to Kate and Declan and does a wonderful job of providing their backstories & history as we investigate a serial killer. The killer is leaving bodies along the city's historic Freedom Trail and there seems to be a tie to the Revolutionary War.
As a descendent of a signer of the Declaration of Independence, it seems Agent Walsh may be on the killer's list. The mystery was suspenseful, with plenty of red herrings and unexpected twists. The killer seems to be one step ahead of them.
Working with Detective Briggs from Boston PD, Walsh and Declan, reach out to the university, local newspaper and investigate a group known as The Founders. I enjoyed the way the author allowed us to follow along as they gathered clues, made deductions and caught the killer.
While not heavy on procedure, the tale felt grounded and pulled me in. Kate is interesting and I look forward to their next case. Jones wrapped up the case, gave us some closure on Declan's personal issues and set us up for the next case, where they will head to Miami.
Claire Duncan narrates and did a delightful job of capturing Kate's personality and those of Declan and others. Her pacing and tone work well for the story, and I'd listen to her again. The writing lends itself to the audio format, making listening an excellent choice.

Stay Caffeinated!
Never miss a post by adding Caffeinated to your Inbox
Reading this book contributed to these challenges:
Related Posts