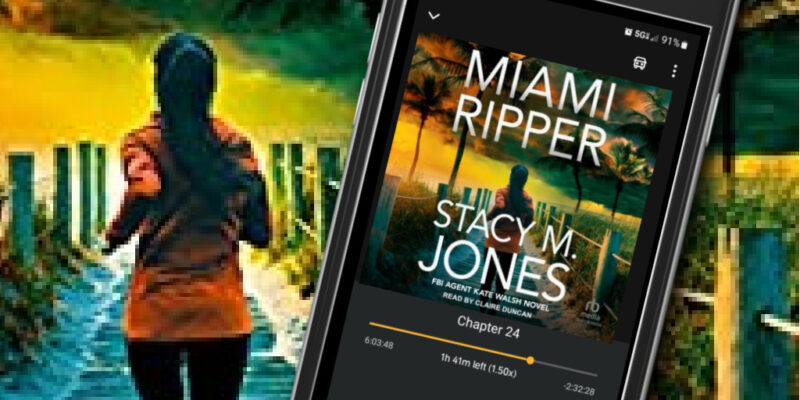 I've been on a suspense murder-mystery kick and dove into the second FBI Kate Walsh audiobook. Miami Ripper, by Stacy M. Jones, takes us to Miami Beach, where someone is killing and mutilating women. Narrated by Claire Duncan, Agents Walsh and James must catch a killer before he chooses his next victim….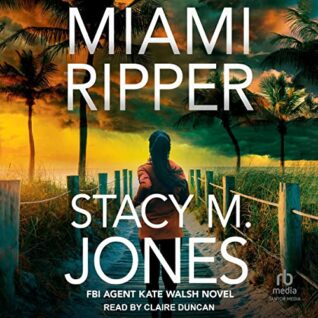 Miami Ripper
by Stacy M. Jones
Series: FBI Agent Kate Walsh #2
Narrator: Claire Duncan
Length: 10 hours and 3 minutes
Genres: Suspense Thriller
Source: Publisher
Purchase*: Amazon | Audible *affiliate
Rating:

Narration: 4 cups Speed: 1.5x

A killer is stalking high-priced escorts and leaving a trail of bodies in empty mansions along Miami Beach's intracoastal waterway. When the crimes become too much for the locals to handle, FBI Agents Kate Walsh and Declan James must find a killer walking among the city's elite.

Amid the glamour and money is a seedy underbelly that runs through the city like an electrical current. Young women are enticed into relationships with older men where sex and money are traded-creating a power dynamic that leaves the woman vulnerable and susceptible to a killer.

Agents Walsh and James must figure out who to believe in a city where everyone has an agenda, and even the local cops seem to have something to hide. A devastating break in the case reveals the potential killer, but the chase is on to find out who is harboring and potentially helping him. Can Agent Walsh use her profiling skills to figure out his plan before the next victim is found or will terror keep reigning in the city?
The FBI is called in to assist when a string of murders occurs in mansions listed for sale. The victims are high priced escorts and women in arrangements with rich men who support their lavish lifestyles.
This was an interesting case, as we got to know Walsh and James better. They had to navigate a police department, politically empowered individuals, and opposition.
It was interesting learning about these women's lifestyles and the men who abuse them. Jones gave a realistic look at sugar daddies and high paid escorts, while also shedding light on why these young women enter these relationships. She did this while weaving a case with plenty of suspects and very little clues.
From the beachfront homes to the privileged lifestyles, the story built in intensity with plenty of twists. Walsh has great instincts and James often felt the need to protect her. I enjoyed their interaction and think they played off each other well. There is an underlining chemistry that I am hoping is developed.
I appreciated the details and look forward to more cases with Kate & Declan. This is the second novel in the series and will work as standalone. Now that we know the players, I felt this was a stronger book than The Founders.
Claire Duncan narrates and brings both Kate & Declan to life. Her male voices are pleasant and I enjoyed the different voices she brought to suspects and secondary characters. Her voice for Kate captures her personality and strengths.

Stay Caffeinated!
Never miss a post by adding Caffeinated to your Inbox
Reading this book contributed to these challenges:
Related Posts