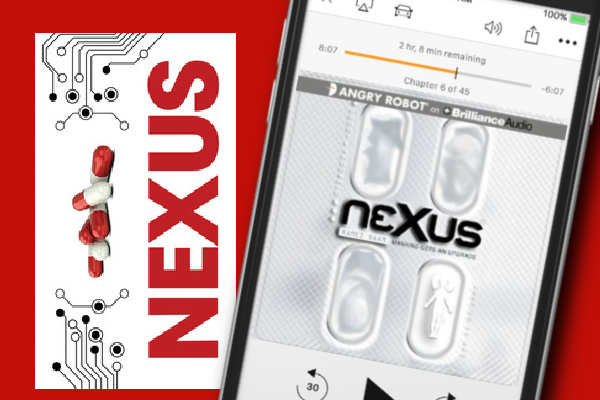 I was looking for a science fiction thriller when I stumbled upon Nexus by Ramez Naam. Then I scooped it up when I saw it was narrated by Luke Daniels. The series is in Kindle Unlimited and you can download the audio at a reduced cost. This techno thriller kept me on the edge of my seat with its thought-provoking story involving nano-technology.
Nexus
by Ramez Naam
Series: Nexus #1
Narrator: Luke Daniels
Length: 13 hours and 12 minutes
Genres: Science Fiction
Source: Purchase
Purchase*: Amazon | Audible *affiliate
Rating:

Narration: 5 cups Speed: 1.5x

Winner of the 2014 Prometheus Award

Mankind gets an upgrade

In the near future, the experimental nano-drug Nexus can link humans together, mind to mind. There are some who want to improve it. There are some who want to eradicate it. And there are others who just want to exploit it.

When a young scientist is caught improving Nexus, he's thrust over his head into a world of danger and international espionage – for there is far more at stake than anyone realizes.

From the halls of academe to the halls of power, from the headquarters of an elite US agency in Washington DC to a secret lab beneath a top university in Shanghai, from the underground parties of San Francisco to the illegal biotech markets of Bangkok, from an international neuroscience conference to a remote monastery in the mountains of Thailand – Nexus is a thrill ride through a future on the brink of explosion.
Nexus will feed your inner nerd while presenting a thrilling, fast-paced tale. You'll soon be questioning scientific advancements involving nanotechnology and the human mind. Kade Lane is a scientist with good intentions who is looking to enhance the Nexus nano that allows minds to connect and download software. You can even access someone's memories.
The story is set in 2040. We enter a world of spies, advocates for nano advancement, governments want it for their military, and drug lords who want to control it. Naturally, there is a huge underground black-market. Of course, there are victims too, those experimented on or given bad Nanos.
Samantha Cataranes, a cyber-enhanced agent wants Nexus production, stopped after what it did to her sister. She works with Kaden after he is arrested to stop scientist from accessing the technology and they track down illegal labs. China has its own plans for the tech and others as well.
The tale that unfolds was action-packed with plenty of twists, climatic scenes, and races against the clock. It also raised questions about technological advancements and who is given access. Should it be contained, placed on the open market to be enhanced or should we ban it? Can it be stopped? Do the benefits outweigh the risks? It reminded me of the debate on marijuana and controlled substances like pain relievers.
The author's credentials are impressive and it's easy to see why Nexus has won awards. Because of his background, the story was grounded, and the science had an authenticity to it.
Luke Daniels narrates and did a brilliant job of bringing these characters to life. He helps set the tone and enhanced a well done, fast-paced thriller.
This is the first in an award-winning trilogy and I look forward to listening to Crux and Apex.

Stay Caffeinated!
Never miss a post by adding Caffeinated to your Inbox
Reading this book contributed to these challenges:
Related Posts