It's no secret that I love Jayne Castle and her off planet Harmony series with those adorable, yet deadly dust bunnies. Ravenna Chastain, a fire witch and Ethan Sweetwater's fake date, turns complicated when someone tries to kill them. Humor, suspense and swoons await you in Sweetwater & the Witch.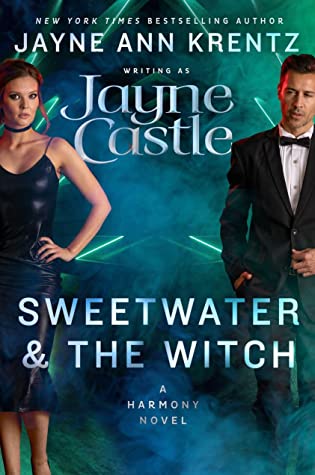 Sweetwater & the Witch
by Jayne Castle
Series: Ghost Hunters #15
Genres: Paranormal Romance
Source: Publisher
Purchase*: Amazon | Audible *affiliate
Rating:

Heat Level:
Welcome to the world of Harmony, where—despite its name, things are anything but—danger lurks just beneath the surface in this new novel by New York Times bestselling author, Jayne Castle.

If there's something Ravenna Chastain knows, it's when to end things. And after she almost winds up the victim of a cult that believes she's a witch, it's easy to walk away from her dead-end career, ready for a new start. But where to find a job that would allow her to use her very specialized skill set? The answer is clear: she becomes a matchmaker.

But even a successful matchmaker can't find someone for everyone, and Ravenna considers Ethan Sweetwater her first professional failure. After nine failed dates, Ravenna knows it's time to cut Ethan loose. But Ethan refuses to be fired as a client—he needs one final date to a business function. Since Ravenna needs a date herself to a family event, they agree to a deal: she will be his (business) date if he will be her (fake) date to her grandparents' anniversary celebration.

What Ethan fails to mention is that attending the business function is a cover for some industrial espionage that he's doing as a favor to the new Illusion Town Guild boss. Ravenna is happy to help, but their relationship gets even more complicated when things heat up—the chemistry between them is explosive, as explosive as the danger that's stalking Ravenna. Lucky for her, Ethan isn't just an engineer—he's also a Sweetwater, and Sweetwaters are known for hunting down monsters…
Sweetwater & the Witch may be the fifteenth book in the Ghost Hunters series set on the planet Harmony, but each book features a romance, suspense and its own story. Readers can jump in and join in the fun. I must warn you though, chances are you'll go back to read the rest.
The story opens deep in the tunnels under the surface where Ravenna posing ironically as a witch is being held by a group determined to rid the planet of witches. Ravenna is actually undercover with the Paranormal FBI (FBPI), but her backup is late. She, along with a fuzzy dust bunny who she later names Harriet, are going to need to save themselves. It is here we get an inkling of the power Ravenna wields.
After the events in the tunnel, Ravenna left the agency and took her skill set as a criminal profiler and applied it as a matchmaker. Her client, Ethan Sweetwater, isn't satisfied with her service, and none of the women who went out with him were impressed. Ravenna wants to discharge the contract, but Ethan is requesting she accompany him on a fake date to assess where he is failing. I love the fake troupe and immediately snuggled in. She reluctantly makes a deal with him, a tit for tat, if you will. It's a good thing to, because her employer indicated a failure with this high-profile match might mean the end of her career.
The tale that unfolds delivers suspense and a wonderful romance. Ethan is donning his ghost hunter skills as a favor and investigating a casino owner. Ravenna finds past dates trying to kill her. As always, we have a feisty dust bunny. Harriet has a fondness for pens and sweets.
The mystery was well done, with plenty of action and twists. It helped force the couple to spend more time together. Both have powerful abilities, and those skills will be needed. Ravenna struggles with people, fearing her skill set, but Ethan doesn't seem deterred. Family, sexual tension, and a little heat gave way to a delightful romance.
I loved the back-and-forth banter between them and the reader's awareness that Ethan is quite smitten. The author delivered allowing both to shine, while having room to grow and trust.
For those who don't know, Jayne Anne Krentz writes of this paranormal world and investigative teams that began with the Arcane Society. She writes historical stories as Amanda Quick where it all began in Second Sight, modern stories as herself and off-planet adventures as Jayne Castle. All of them deal with artifacts that contain some sort of power, people with abilities, suspenseful stories, and delightful romances.
As always, I loved my trip to Harmony and encourage fans of romantic suspense with paranormal elements to add this to their bookshelf.
Sweetwater & the Witch by Jayne Castle delivered another suspenseful, swoon-worthy off planet adventure in the #GhostHunters series #ArcaneSociety #Harmony #NewRelease #bookreview
Click To Tweet

Stay Caffeinated!
Never miss a post by adding Caffeinated to your Inbox
Related Posts