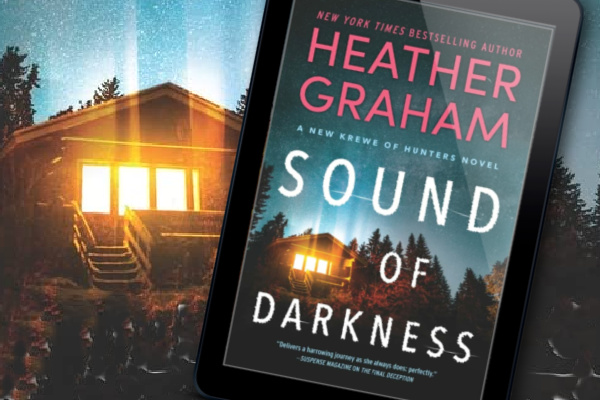 Sound of Darkness by Heather Graham is the first in a three-part trilogy within the Krewe of Hunters series and pulled me in from the start and never left go. If you enjoy a good mystery with a side of romance and a dash of paranormal woo-woo, you are going to love this one….
Sound of Darkness
by Heather Graham
Series: Krewe of Hunters #36
Genres: Paranormal, Romantic Suspense
Source: Library
Purchase*: Amazon | Audible *affiliate
Rating:

Heat Level:

The cries of the dead are deafening

Women are being taken in Virginia, and FBI agent Mark Gallagher is determined to put a stop to it. Certain he's closing in on the killer known as The Embracer, Mark is less than thrilled when he's partnered with rookie agent Colleen Law, worried she's a liability when there's so much at stake.

But like everyone in the Krewe of Hunters, Colleen has talents that extend beyond the usual investigative toolbox. She can hear the voices of the victims in her head, and they're telling her she and Mark are near to uncovering the truth.

When Mark's prime suspect takes a liking to Colleen, he's surprisingly protective of his new partner, even as he admits her connection to the victims is key. But tense interrogations turn dangerously personal when someone close to Colleen goes missing, luring the agents deep into the shadows of wooded rural Virginia, where nobody can hear them scream.

"A high-octane page turner that's two parts thrills, one part cautionary tale, and an absolute blast to read." —Providence Journal on Danger in Numbers
FBI agent Mark Gallagher, his dog Red and partner, Ragnar Johansen, are members of the Krewe of Hunters, a special unit within the FBI. They are hot on the case of the killer known as The Embracer and think they've solved it when they find his latest victim alive and arrest the perpetrator….only things aren't as they seem.
Mark is shocked when he is assigned to partner with rookie agent Colleen Law. Colleen can hear the voices of victims and it seems one needs saving. Their first meet is tense.The case that unfolds pulled me in from the tension between Mark and Colleen to the plot of the killer.
Each of the Krewe of Hunters has a unique gift and Colleen Law is no different. It was interesting seeing Mark and Colleen interact, grow to trust each other and answer the intense chemistry between them. The villains are dark and their game is complex. We meet Colleen's sister and wow the snark and sparks between her and Mark's partner..sizzle!
The murder-mystery/kidnapping will span the next two books as well as they work to capture the Embracer. Some aspects are closed so that the reader feels satisfied and each book has its own romance. We also have the ghost officer and his unfinished business. Graham kept me engaged and while I figured out some things, others were a surprise.
I cannot wait to dive into Aura of Night, the next book in this series featuring Colleen's sister. Fans of romantic suspense with murder-mysteries and paranormal aspects will enjoy Sound of Darkness.
Sound of Darkness by Heather Graham delivered a suspenseful case, cute pets, sizzling chemistry and a little paranormal woo-woo. #KreweOfHunters #LoveMyLibrary #bookreview
Click To Tweet

Stay Caffeinated!
Never miss a post by adding Caffeinated to your Inbox
Related Posts