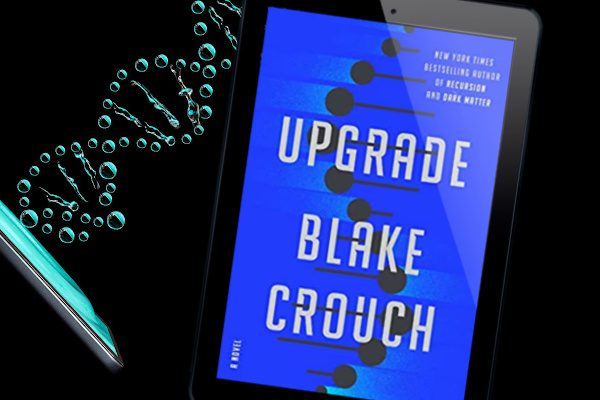 I love diving into the mind/writings of Blake Crouch. Upgrade is his newest thriller, blending science and technology in a way that felt eerily real. This fast-paced tale is the perfect read this summer.
Upgrade
by Blake Crouch
Genres: Science Fiction, Thriller
Source: Publisher
Purchase*: Amazon | Audible *affiliate
Rating:
"You are the next step in human evolution."

At first, Logan Ramsay isn't sure if anything's different. He just feels a little . . . sharper. Better able to concentrate. Better at multitasking. Reading a bit faster, memorizing better, needing less sleep.

But before long, he can't deny it: Something's happening to his brain. To his body. He's starting to see the world, and those around him—even those he loves most—in whole new ways.

The truth is, Logan's genome has been hacked. And there's a reason he's been targeted for this upgrade. A reason that goes back decades to the darkest part of his past, and a horrific family legacy.

Worse still, what's happening to him is just the first step in a much larger plan, one that will inflict the same changes on humanity at large—at a terrifying cost.

Because of his new abilities, Logan's the one person in the world capable of stopping what's been set in motion. But to have a chance at winning this war, he'll have to become something other than himself. Maybe even something other than human.

And even as he's fighting, he can't help wondering: what if humanity's only hope for a future really does lie in engineering our own evolution?

Intimate in scale yet epic in scope, Upgrade is an intricately plotted, lightning-fast tale that charts one man's thrilling transformation, even as it asks us to ponder the limits of our humanity—and our boundless potential.
Blake Crouch's newest tale dives into the world of genes and altering them. We meet Logan Ramsay, an agent in a post-apocalyptic world after the Great Starvation. His mother geneticist Miriam Ramsay attempted to help rice farmers, genetically changed a bug and caused a biblical famine.
In Logan's world, modifying or enhancing genes is forbidden. While on a mission to find an underground lab, he is hit with a bomb. He appears fine, but slowly understands he's received an upgrade.
The tale that unfolds was brilliant from the slow buildup of his abilities to who orchestrated it delivered nail-biting suspense. I liked Logan. He loves the study of genes and the endless possibilities but also understands to potential for abuse and catastrophic consequences. He's clever, highly trained and facing multiple enemies.
Crouch does his research. The thread on gene modification or enhancements could have been ripped from today's headlines. He weaves a tale of possibilities and presents potential outcomes all while writing and developing a suspenseful, fast-paced, down-to-earth tale that invites readers from all genres to dive in.
Upgrade will entertain you while making you ponder our future. As you might imagine, Crouch is an auto-buy and was one of my most anticipated summer releases. The book is available in ebook, hardcover and audiobook. I highly recommend you grab this! It's perfect for the beach or late night reading.
Upgrade by Blake Crouch delivered another nail-biting science fiction/techno thriller that is the must read summer release. #NewRelease #Thriller #bookreview
Click To Tweet

Stay Caffeinated!
Never miss a post by adding Caffeinated to your Inbox
Related Posts