I was delighted that Blake Crouch's back matter will be on audio and grabbed Abandon. Narrated by Soneela Nankani, Jennifer Jill Araya, Timothy Jackson, and Max Meyers, Abandon tells a tale of journalist Abigail Foster and her historian father who along with their party explore a town where its inhabitants disappeared Christmas Day 1893. Horror meets thriller in this chilling listen.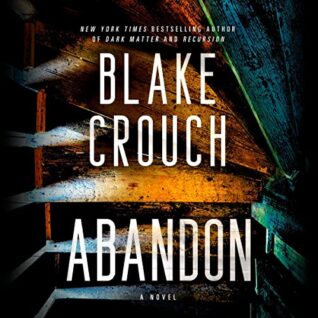 Abandon
by Blake Crouch
Narrator: Soneela Nankani, Jennifer Jill Araya, Timothy Jackson, Max Meyers
Length: 12 hours and 41 minutes
Genres: Horror
Purchase*: Amazon | Audible *affiliate
Rating:

Narration: 4.5 cups Speed: 1.5x

A century-old mystery—and a desperate battle to survive—unfold in this standalone thriller from the New York Times bestselling author of Dark Matter and Recursion.

On Christmas Day in 1893, every man, woman, and child in a remote mining town disappeared, belongings forsaken, meals left to freeze in vacant cabins, and not a single bone found.

Now, journalist Abigail Foster and her historian father have set out to explore the long-abandoned town and learn what happened. With them are two backcountry guides—along with a psychic and a paranormal photographer who are there to investigate rumors that the town is haunted.

But Abigail and her companions are about to learn that the town's ghosts are the least of their worries. Twenty miles from civilization, with a blizzard bearing down, they realize they are not alone.

The ordeal that follows will test this small team past the breaking point as they battle the elements and human foes alike—and discover that the town's secrets still have the power to kill.

Part journey into old-West history, part nail-biting survival thriller, Abandon is a bloody, darkly surprising tale as only Blake Crouch could deliver.
The tale that unfolds was chilling from the changing point of views to the timelines. Crouch gave us both the current storyline and shared events of 1893 as they unfolded.
Abigail is a journalist, and she has joined her father, a historian, to document the abandoned town. With them are two guides and a couple. The couple is a psychic and paranormal photographer team.
If the Lost Colony of Roanoke Island intrigues you, then this story will pull you in. The town has been abandoned. Meals are still on tables, but not a single man, women or child were found. Not even their bones.
The story built as we learned about events that unfolded in 1893, and see things quickly deteriorate in the present. Suspense, twists and horrors await you in this spin-chilling tale. The story was grounded, making it all the more terrifying.
Narrated by Soneela Nankani, Jennifer Jill Araya, Timothy Jackson, and Max Meyers, early Crouch did not disappoint. The story lends itself perfectly to the audio format. I was glad they chose multiple narraters and found it enhanced the story and transitions from timeline and perspective occurred smoothly.

Stay Caffeinated!
Never miss a post by adding Caffeinated to your Inbox
Reading this book contributed to these challenges:
Related Posts