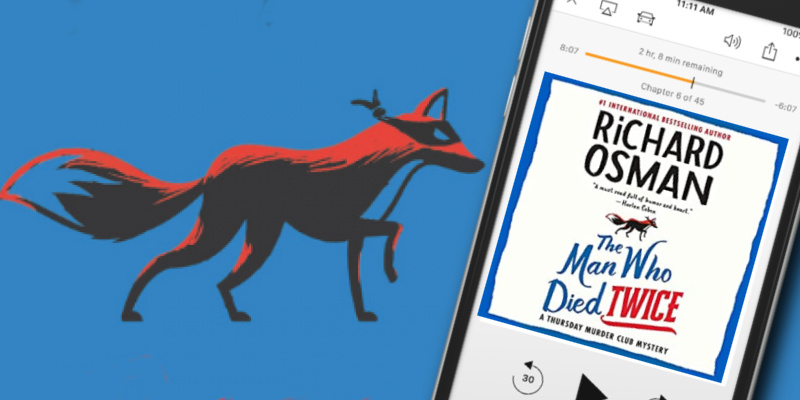 Narrated by Lesley Manville, I was excited to dive into the second standalone audiobook in the Thursday Murder Club. The Man Who Died Twice by Richard Osman proved to be even better than its predecessor! Grab a cup of hot tea and check our thoughts….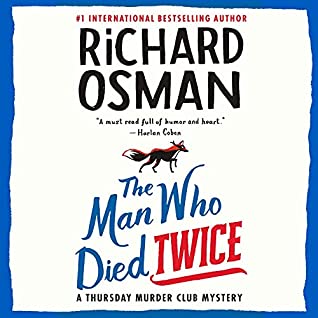 The Man Who Died Twice
by Richard Osman
Series: Thursday Murder Club #2
Narrator: Lesley Manville
Length: 11 hours and 49 minutes
Genres: Mystery
Source: Publisher
Purchase*: Amazon | Audible *affiliate
Rating:

Narration: 5 cups Speed: 1.3x

The second gripping novel in the number-one internationally best-selling Thursday Murder Club series, the first of which Kate Atkinson called "A little beacon of pleasure in the midst of the gloom...such fun!"

Elizabeth, Joyce, Ron, and Ibrahim - the Thursday Murder Club - are still riding high off their recent real-life murder case and are looking forward to a bit of peace and quiet at Cooper's Chase, their posh retirement village.

But they are out of luck.

An unexpected visitor - an old pal of Elizabeth's (or perhaps more than just a pal?) - arrives, desperate for her help. He has been accused of stealing diamonds worth millions from the wrong men and he's seriously on the lam.

Then, as night follows day, the first body is found. But not the last. Elizabeth, Joyce, Ron, and Ibrahim are up against a ruthless murderer who wouldn't bat an eyelid at knocking off four septuagenarians. Can our four friends catch the killer before the killer catches them? And if they find the diamonds, too? Well, wouldn't that be a bonus? You should never put anything beyond the Thursday Murder Club.
We are back with our friends, Elizabeth, Joyce, Ron, and Ibrahim. They make up the founding members of the Thursday Murder Club. Meetings are held where they live at the Cooper's Chase, their retirement village. Mostly, they spend their time going over cold cases and basking in the glory of solving an actual case and enjoying each other's company socially. That it until an old friend of Elizabeth's appears. He's been accused of stealing millions of diamonds. The case that unfolds led the group on a merry chase.
I loved being back at Cooper's Chase and joining the group as they discuss everything from the mundane to the life expectancy of dogs.
I loved everything about this new story, from our elderly murder club group to the local happenings. Once again, Bogdan proves useful. As do Donna & Chris, our local law enforcement. We even go on a few rides with them. The author once again provides an interesting case with plenty of twists and turns. He blends humor, interesting banter and skillfully woven clues and connections to keep the reader engaged.
However, it is this motley group of friends from all walks of life and personalities that truly makes this story & series golden. The characters are fully formed and I adore each of them, flaws and all. As much as I loved solving the case, I had as much fun just listening in on their thoughts and conversations.
Contacts at MI5 and MI6 added some excitement, and the case proved to be delightfully entertaining. Heavier than a cozy, but lighter than a crime thriller, The Man Who Died Twice delivered all that I could have hoped for and more. I cannot wait for the next in series.
Lesley Manville narrates and did a splendid job of capturing the cast of characters, overall tone and pacing of the story. Listening is a pleasure as Manville performance gives unique voices to each character. From her infection to tone, she adds depth to this stellar story.
The Man Who Died Twice by Richard Osman, narrated by Lesley Manville delivered from the mystery to the rich characters. #audiobook #ThursdayMurderClub
Click To Tweet

Stay Caffeinated!
Never miss a post by adding Caffeinated to your Inbox
Reading this book contributed to these challenges:
Related Posts