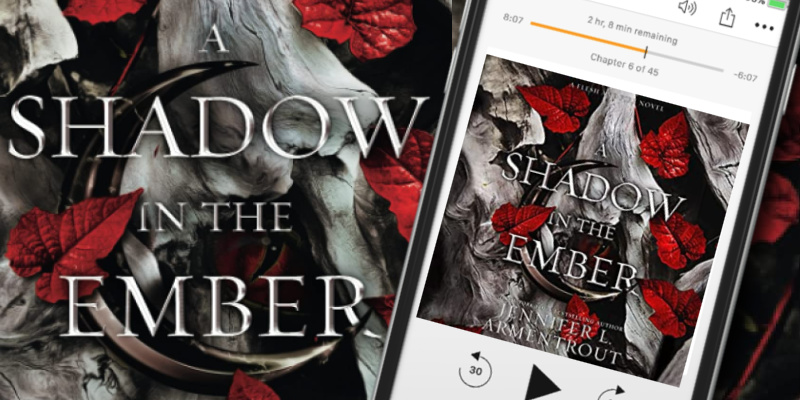 Narrated by Stina Nielsen, A Shadow in the Ember by Jennifer L. Armentrout is the first in the Flesh and Fire series which shares the story of Nyktos & Sera set in the world of Blood and Ash. You won't want to miss their story!
A Shadow in the Ember
by Jennifer L. Armentrout
Series: Flesh and Fire #1
Narrator: Stina Nielsen
Genres: Fantasy
Source: Publisher
Purchase*: Amazon | Audible *affiliate
Rating:

Heat Level:

Narration: 4 cups Speed: 1.4x

Number-one 'New York Times' best-selling author Jennifer L. Armentrout returns with book one of the all-new, compelling Flesh and Fire series - set in the beloved Blood and Ash world.

Born shrouded in the veil of the Primals, a Maiden as the Fates promised, Seraphena Mierel's future has never been hers. "Chosen" before birth to uphold the desperate deal her ancestor struck to save his people, Sera must leave behind her life and offer herself to the Primal of Death as his Consort.

However, Sera's real destiny is the most closely guarded secret in all of Lasania - she's not the well protected Maiden but an assassin with one mission - one target. Make the Primal of Death fall in love, become his weakness, and then…end him. If she fails, she dooms her kingdom to a slow demise at the hands of the Rot.

Sera has always known what she is. Chosen. Consort. Assassin. Weapon. A specter never fully formed yet drenched in blood. A "monster." Until "him." Until the Primal of Death's unexpected words and deeds chase away the darkness gathering inside her. And his seductive touch ignites a passion she's never allowed herself to feel and cannot feel for him. But Sera has never had a choice. Either way, her life is forfeit - it always has been, as she has been forever touched by Life and Death.
A Shadow in the Ember is the first in the Flesh and Fire series, a prequel to the Blood and Ash series and set in the same world. At first I was angry that we weren't getting the fourth audiobook as I wanted more of Poppy and Casteel, especially after the jaw-dropping ending of the third novel. So I went into this reluctantly. Oh, there was never a doubt I would listen, but I stomped my foot in protest. Armentrout soothed my wounds and quickly had me falling for Nyktos and Sera. Of course, all the tidbits that answered questions I had regarding the Blood and Ash series excited me as well.
With its nod to Hades and Persephone and the secret plan to out fox a god, I found myself completely captivated. Sera is inquisitive, and like Poppy, questions everything. She is fearless, snarky and passionate about her people. Sera was born shrouded in the veil of the Primals, a Maiden of the Fates and promised to the Primal of Death as his Consort in a deal made by her ancestors. To her people, she is the Chosen One. Secretly, she has been given another task. Trained to be an assassin, her mission is to make the Primal of Death fall in love with her, then kill him. But can she do it?
The Primal of Death, Nyktos, is captivating and powerful. He is mysterious, and their personalities clash in all the right ways. I loved their back-and-forth banter along with their off the charts chemistry. From their first kiss, the pages went up in flames. Their romance is complicated, fated and Armentrout held me enthralled until the last word was spoken.
"You," he said, his thumb moving in a slow swipe over the side of my throat. There was something about the way he said that. "You are trouble."
While set in the same world as Blood and Ash, A Shadow of Ember was its own unique storyline with fresh characters. Because of connections, questions answered and ah-ha moments, I recommend you begin by listening to the first three Blood and Ash novels before diving into the prequel series. It was perfectly timed.
Stina Nielsen narrates, and I love her voice, tone and inflections. She narrated the Blood and Ash series and gave life to Poppy and Ash. When the audiobook first began, the voice of Sera was so similar to Poppy that it threw me. I kept trying to grasp Sera, but kept seeing Poppy. I confess this aspect disappointed me and truth be told, I would have preferred an unfamiliar voice or perhaps change in narrator. (this in no way negates how talented Nielson is) I did eventually settle in and Sera came into her own.
Fans of romantic fantasy and mythology will want to dive into this world. I keep seeing this listed as a young adult title, but have to disagree. There is sex and violence and, I would place in firmly in the adult category or New Adult.
A Shadow in the Ember by Jennifer L. Armentrout set in the world of Blood and Ash shares the fated story of The Primal of Death and his consort. #Fantasy #romance #Audiobook #NewRelease #MustListen #StinaNielson
Click To Tweet

Stay Caffeinated!
Never miss a post by adding Caffeinated to your Inbox
Reading this book contributed to these challenges:
Related Posts