I am loving the McKenzies of Ridge Trail series by Lori Foster! Stronger Than You Know is the second book and shares Reyes McKenzie and Kennedy Brooks story. Suspense, family, snark and swoons await you.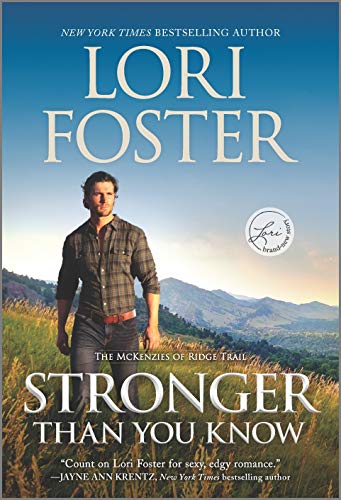 Stronger Than You Know
by Lori Foster
Series: McKenzies of Ridge Trail #2
Genres: Contemporary Romance
Source: Publisher
Purchase*: Amazon | Audible *affiliate
Rating:

Heat Level:

Welcome back to Ridge Trail, Colorado! Get ready for the next all-new book in New York Times bestselling author Lori Foster's exciting McKenzies of Ridge Trail series.

Reyes McKenzie runs a gym in a run-down part of town where he teaches self-defense and gathers information on illegal activities for his family to investigate. When Kennedy Brooks joins his gym, his concentration is blown to hell. He's never seen a woman work so hard to be lethal…and he wonders what made her that way.

Kennedy is all too aware of their instant attraction but keeps him at arm's length. She's spent years learning how to protect herself and she knows Reyes is much more than just a gym owner…
I love the McKenzies and their missions. Reyes owns a gym and teaches self-defense classes, but he and his family also run a special op to stop human trafficking and predators. The siblings' story and how their dad came to run this off the book's organization will tug at your heartstrings. The family dynamics from banter to their butler will make you laugh and have you wanting to spend more time getting to know them.
While each book works as a standalone and Foster does an excellent job of welcoming newcomers, I highly recommend beginning with book one, No Holding Back.
At the end of No Holding Back, we briefly met Kennedy Brooks as she worked out in Reye's gym. He knows she is skittish about something and offers to help her with defensive and evade techniques. She declines, but a cat opened the door to their friendship.
In Stronger Than You Know, Kennedy calls Reyes when she returns home from a trip and finds herself in trouble. Reyes didn't hesitate and comes to her aid. What he finds alarms him. Now he and his family need to figure out what secrets she is keeping and how to keep her safe. With no home and only the clothes in her suitcase, Reyes takes Kennedy to his home.
The tale that unfolds quickly pulled me in. I love the McKenzie family and company. I enjoyed getting to know Reyes. He seemed more like a player in book one, but Foster fleshed him out and made me fall for him. Kennedy is one tough cookie and not a complete damsel in distress. She has kicked some ass and taken names. Her story will tug at your heartstrings and make you hold your daughters and grandchildren a little tighter.
Foster weaved in the horrors of human trafficking by sharing the stories of her characters and the others they meet. I loved how everyone got involved and how each brings skills and assets to the table. Even though the subject matter is hard, the banter, teasing, and the unique dynamics of the McKenzie family lightened things. I laughed and enjoyed page time at their father's estate.
The romance built slowly, and I loved how patient Reyes was. I enjoyed seeing this sensitive and romantic side of him. It was wonderful to see Kennedy open up, trust and take a leap. If you love a slow burn that ignites, you'll love seeing their relationship develop and bloom.
Foster once again laid the groundwork for the next book and already I cannot wait for Maddison's story. She is indeed a force to be reckoned with.
The McKenzies of Ridge Trail is proving to be a Foster favorite. Fans of Rebecca Zanetti's Deep Ops series will love meeting the McKenzies.

Stay Caffeinated!
Never miss a post by adding Caffeinated to your Inbox
Related Posts