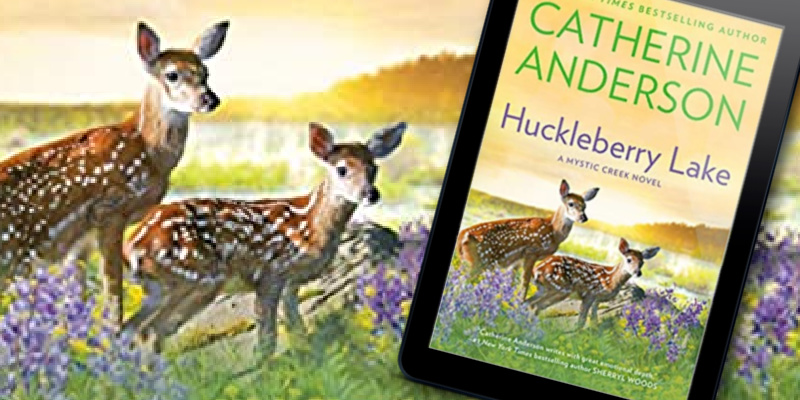 I love slipping into a Mystic Creek series romance. Huckleberry Lake is the sixth novel, but each of the books by Catherine Anderson works as a standalone. Wait until you meet swoon-worthy deaf cowboy, Wyatt Fitzgerald and the feisty, yet damaged Erin De Laney.
Huckleberry Lake
by Catherine Anderson
Series: Mystic Creek #6
Genres: Contemporary Romance
Source: Purchase
Purchase*: Amazon | Audible *affiliate
Rating:

Heat Level:

Love blooms once more in the quaint town of Mystic Creek, Oregon, from the New York Times bestselling author of Strawberry Hill.

Erin De Laney came to Mystic Creek hoping that the slower pace might rekindle her enthusiasm for law enforcement. Instead she feels as frustrated as she did in the city and when her disillusionment with the job increases, she takes a position on her uncle's ranch.

Her life has enough complications without her attraction to handsome, deaf cowboy, Wyatt Fitzgerald, the foreman on the ranch. Wyatt has sworn off dating, and Erin fears that nothing she does will ever change his mind. Yet while working with an abused horse under Wyatt's guidance, Erin comes to better understand herself. She also learns that love can heal almost anything.

Wyatt yearns to take Erin into his arms, but he's hesitant to pursue a romantic relationship. When their work sends them out alone together into a wilderness area, Wyatt is even more determined to hold Erin at arm's length.

But out of their time alone together on the mountain blossoms a chance for a once-in-a-lifetime love if only he's willing to give her his heart and make her his
In Huckleberry Lake, Erin comes to Mystic Creek hoping the slower place will bring enjoyment from her role in law-enforcement, but a dark case has her resigning and becoming a hand on her Uncle's ranch. She has a crush on the ranch manager Wyatt Fitzgerald, but he is sending mixed signals.
This was a heart tugged story from Wyatt's painful history to the Daddy issues that Erin faces every day. Do you know someone who tries desperately to please their parents but the hard truth is they were born the wrong sex? Erin has spent her entire life trying to be the man her father wants, including joining the force.
Their story was tugs and pulls, growth and setbacks, and all of it felt genuine from the abused horse to their undeniable attraction to each other. Family and friends muddle things and give nudges adding to the overall romance.
We get some side threads involving Wyatt's brother and a beloved bear. Both threads added to the tale and brought Mystic Creek to life with its small-town charms.
I loved the talk of food, daily life on the ranch, and thread about a skittish horse. Anderson weaves a story with many threads that pull you in and allow you to slip away for a few hours. I closed the book with a grin on my face.
Huckleberry Lake by Catherine Anderson delivered all the small-town charm and feels that readers will love. #MysticCreek #Romance #BookLove
Click To Tweet

Stay Caffeinated!
Never miss a post by adding Caffeinated to your Inbox
Related Posts