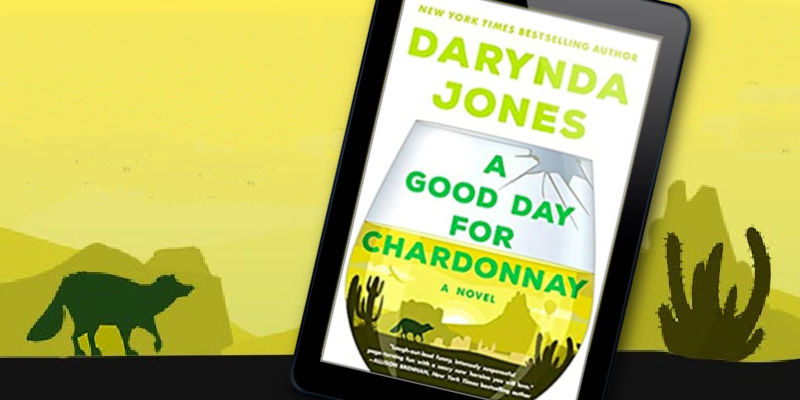 A Good Day for Chardonnay by Darynda Jones delivered mystery, romance, suspense and small-town antics with plenty of humor and answers to questions. This is the second novel in the Sunshine Vicram series and it has all the elements I've come to love from Jones. Grab an iced coffee and find out why Darynda Jones is an autobuy.
A Good Day for Chardonnay
by Darynda Jones
Series: Sunshine Vicram #2
Genres: Mystery
Source: Publisher
Purchase*: Amazon | Audible *affiliate
Rating:

Heat Level:
Running a small-town police force in the mountains of New Mexico should be a smooth, carefree kind of job. Sadly, full-time Sheriff--and even fuller-time coffee guzzler--Sunshine Vicram, didn't get that memo.

All Sunshine really wants is one easy-going day. You know, the kind that starts with coffee and a donut (or three) and ends with take-out pizza and a glass of chardonnay (or seven). Turns out, that's about as easy as switching to decaf. (What kind of people do that? And who hurt them?)

Before she can say iced mocha latte, Sunny's got a bar fight gone bad, a teenage daughter hunting a serial killer and, oh yes, the still unresolved mystery of her own abduction years prior. All evidence points to a local distiller, a dangerous bad boy named Levi Ravinder, but Sun knows he's not the villain of her story. Still, perhaps beneath it all, he possesses the keys to her disappearance. At the very least, beneath it all, he possesses a serious set of abs. She's seen it. Once. Accidentally.

Between policing a town her hunky chief deputy calls four cents short of a nickel, that pesky crush she has on Levi which seems to grow exponentially every day, and an irascible raccoon that just doesn't know when to quit, Sunny's life is about to rocket to a whole new level of crazy.

Yep, definitely a good day for chardonnay
We are back in Del Sol, New Mexico with local sheriff and single Mom, Sunshine Vicram. Life is never dull for this sassy sheriff and her mini-me. Told from the perspectives of Sunshine and Auri, her precocious teenage daughter. While Sunshine is trying to solve a murder, Auri is on the hunt to catch a serial killer.
Sunshine's parents have been setting her up with blind dates. Her latest with pest control technician Carver is cut short when her deputy has a crisis. She is having dreams about Levi Ravinder, but he is a suspect in a murder investigation that half the town has confessed to. Yep, life is never dull in Del Sol. Meanwhile, she needs to determine who the Dangerous Daughters are at the Mayor's insistence.
I love slipping into one of Jone's stories. A Good Day for Chardonnay was a treat from mysteries to romance. We've got several cases, some old and some new, including Sunshine's abduction case. Sunshine's parents can't seem to monitor Auri whose boyfriend is keeping a painful secret. Sunshine still loves her childhood crush, and the man is sexy, infuriating, and mysterious.
The banter and relationship between Sunshine and Auri is priceless. I loved the humor and love they share. Secondary characters are developed and add to the small-town feel and camaraderie as Sunshine develops relationships with them and strengthens past friendships.
The romance takes a heated turn causing the heat level, but it was one scene and deliciously hot. The mysteries were well interesting, and each case pulled me in from the confessing old woman to the attack at the bar.
I laughed, shed a tear or two, cheered and shouted I knew it before closing the book with a smile. I am loving these characters and cannot wait for the next book. With its humor and romance, this small-town mystery is the perfect book to take to the beach.
In the second #SunshineVicram novel, A Good Day for Chardonnay by Darynda Jones, the author delivers answers, romance, mystery and humor with small-town antics #MustRead #BeachRead #NewRelease #AutoBuy #Mystery #Humor
Click To Tweet

Stay Caffeinated!
Never miss a post by adding Caffeinated to your Inbox
Related Posts