Million Dollar Demon by Kim Harrison is the fifteenth book in the Hollows urban fantasy series. The new master vampire of Cincinnati has arrived, and she wants Rachel Morgan out. Another fantastic installment you'll want to add to your bookshelf.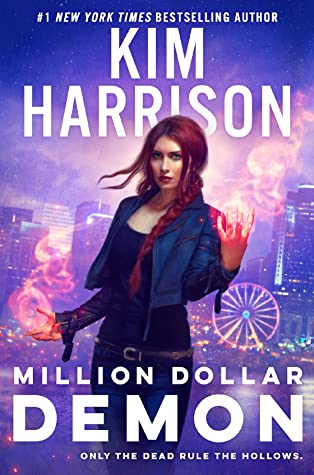 Million Dollar Demon
by Kim Harrison
Series: The Hollows #15
Genres: Urban Fantasy
Source: Publisher
Purchase*: Amazon | Audible *affiliate
Rating:

Heat Level:

To save the city, Rachel Morgan will need to show some teeth in the next Hollows novel from #1 New York Times bestselling author Kim Harrison.

The new master vampire of Cincinnati has arrived . . . and she wants Rachel Morgan out. No matter where Rachel goes, Constance is there—threatening Rachel's allies, causing city-wide chaos, and, to add insult to injury, even forcing Rachel out of her current quarters. Ever since Rachel found a way to save the souls of vampires, the old undead's longtime ascendancy has been broken. Now Constance sees eliminating Rachel as the key to consolidating her own power.

Rachel has no desire to be enthralled or killed—and she's terrified of what may become of the city if Constance forces a return to the ancient ways. But even a witch-born demon can't stand against the old undead—at least, not alone. And if Rachel refuses to claim the role of Cincinnati's master demon, the city will tear itself apart, taking her and all those who stand beside her with it.
Why can't we all just get along? Poor Rachel. She just wants to find a home, save Bis and snuggle with Trent. Constance, the new master vampire of Cincinnati has arrived early, evicted large parts of the city and is demanding all paranormal submit to her control. As for Rachel, Constance wants her out of the city and the Hollows. The IS is refusing to help displaced folks, and the city is divided. Oddly enough, that divide can be grouped into those who like Rachel and those who want her dead. Can an agreement be made or are things about to get ugly?
It's no secret that I love The Hollows series from the characters to the city. I am so glad that Harrison is revisiting this series and loved Million Dollar Demon.
Harrison hooked me from the very first pages. Rachel and Jenks are looking for a new home and soon find themselves caught up as Constance's thugs take over the city. Rachel tries to help and grows frustrated when the IS and FIB aren't any help.
It was a blast seeing beloved characters and Rachel's allies. Ms. Morgan has come along way and has really come into her own as a Demon-Witch. While she still places herself in danger, she isn't as impulsive and is more trusting of those around her. Sure, she'll die protecting them, but she's let them in.
The threat to Cincinnati has everyone from the Elves to the free vampires in an uproar as Constance rules by fear and it proved to be an interesting storyline. Constance makes Piscary look like a veritable saint. Yikes.
We had some adventures to as Rachel and Pike go on an unexpected trip and find some common ground. Trent has really changed and has helped to anchor Rachel. It was perfect from the burgers to the hiccups.
The tension between Al, Hodin and Rachel continues. Poor Rachel finds herself in the middle and it hurts her. The tensions between the Elves and Demons, particularly with magic, but Rachel has other ideas. We get to spend a little time in the Ever-After, which is always fun!
Clever plans, alliances, loss, spells and deals made for an addictive read. The banter, camaraderie, and moments between lovers and friends balanced out the action and made me feel right at home in the Hollows.
A well-balanced tale with all the elements readers expect from Ms. Harrison. Fans of the series won't be disappointed. I am hoping we get to visit again soon.
Things are about to get crazy in the Hollows. Million Dollar Demon by Kim Harrison delivered action, suspense, laughs and time well spent with our motley crew. #NewRelease #MustRead #TheHollows #UrbanFantasy #RachelMorgan
Click To Tweet

Stay Caffeinated!
Never miss a post by adding Caffeinated to your Inbox
Related Posts