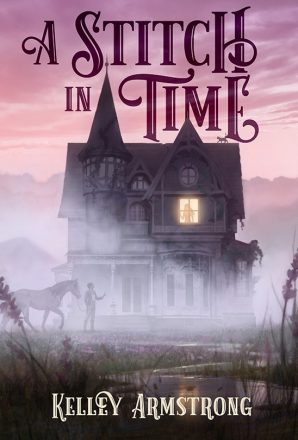 A Stitch in Time
by Kelley Armstrong
Series: Thorne Manor #1
Genres: Paranormal, Time Travel
Source: Publisher
Purchase*: Amazon | Audible *affiliate
Rating:

Heat Level:

Thorne Manor has always been haunted...and it has always haunted Bronwyn Dale. As a young girl, Bronwyn could pass through a time slip in her great-aunt's house, where she visited William Thorne, a boy her own age, born two centuries earlier. After a family tragedy, the house was shuttered and Bronwyn was convinced that William existed only in her imagination.

Now, twenty years later Bronwyn inherits Thorne Manor. And when she returns, William is waiting.

William Thorne is no longer the boy she remembers. He's a difficult and tempestuous man, his own life marred by tragedy and a scandal that had him retreating to self-imposed exile in his beloved moors. He's also none too pleased with Bronwyn for abandoning him all those years ago.

As their friendship rekindles and sparks into something more, Bronwyn must also deal with ghosts in the present version of the house. Soon she realizes they are linked to William and the secret scandal that drove him back to Thorne Manor. To build a future, Bronwyn must confront the pas
I read a post from Kelley Armstrong about her newest book, A Stitch in Time, and knew I had to read it. Time-travel, ghosts, suspense, mystery and romance await you in this stellar novel.
The cover you are looking at is for the hardcover edition through Subterranean Press. It's limited edition and beautiful. However, it's also available in ebook and audiobook format. I've added that covers below the review because they're gorgeous.
I love time travel romances and this one adds a ghostly mystery, creeptastic suspense and a murder-mystery. Even the neighbors in the present are brilliant, but I am getting ahead of myself.
The tale takes place at Thorne Manor, in the English countryside near a small village whose property backs up to the moors. As a young girl, Bronwyn Dale could pass through a time slip in her great-aunt's house, where she visited William Thorne, a boy her own age, born two centuries earlier. One night tragedy struck and Bronwyn never returned.
Now, twenty years later, she inherits the manor and returns for the summer. She has convinced herself that William was just an imaginary childhood friend. The tale that unfolds had all the elements of a fireside ghost story and time-travel romance.
William Thorne is no longer a young teenage boy, but a man who lives alone in the manor (in his time).
In Bronwyn's room, there is a stitch in the fabric of time that allows her to slip into William's time. As the two renew their friendship and possibly more, Bronwyn is seeing ghosts in the present who seem to warn her and the town shares history about the mad lord of the manor.
The characters and setting came to life through the author's writing. She perfectly balanced the romance and suspense. In fact, she had me in quite a tizzy as I tried to sort facts and look for clues that would make me happiest.
I loved Bronwyn. She is sweet, faces her fears and is quite clever. William, while not always even-tempered, was sweet, romantic and was clearly hurt when Bronwyn didn't return.
Sometimes an element suffers when you combine them in a story. Kelley Armstrong wove mystery, paranormal and romantic elements together masterfully giving each their full measure. It was brilliant.
Armstrong said it was a story she longed to write, and I cannot thank her enough. This was hands down one of my favorite reads of the year.
This is book one of Thorne Manor, but it wraps up nicely. That doesn't mean I won't have grabby hands when book two releases. I cannot wait!
I read this for Fraterfest, a Fall spooky readathon, and it was perfect for it. If you love time-travel romances, paranormal ghost stories and murder-mysteries you'll want to devour this.
I ended up grabbing both and cannot wait to do a re-read on audio.
A Stitch in Time by Kelley Armstrong brings readers a time-traveling romance filled with discovery, paranormal mystery and murder… perfect for Halloween weekend #NewRelease #ThorneManor
Click To Tweet
Related Posts