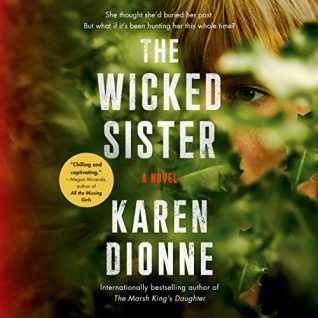 The Wicked Sister
by Karen Dionne
Narrator: Kristen Sieh, Andi Arndt
Length: 8 hours and 37 minutes
Genres: Thriller
Source: Publisher
Purchase*: Amazon | Audible *affiliate
Rating:

Narration: 5 cups Speed: 1.3x

She thought she'd buried her past. But what if it's been hunting her this whole time?

From the bestselling and award-winning author of The Marsh King's Daughter comes a startling novel of psychological suspense as two generations of sisters try to unravel their tangled relationships between nature and nurture, guilt and betrayal, love and evil.

You have been cut off from society for fifteen years, shut away in a mental hospital in self-imposed exile as punishment for the terrible thing you did when you were a child.

But what if nothing about your past is as it seems?

And if you didn't accidentally shoot and kill your mother, then whoever did is still out there. Waiting for you.

For a decade and a half, Rachel Cunningham has chosen to lock herself away in a psychiatric facility, tortured by gaps in her memory and the certainty that she is responsible for her parents' deaths. But when she learns new details about their murders, Rachel returns, in a quest for answers, to the place where she once felt safest: her family's sprawling log cabin in the remote forests of Michigan's Upper Peninsula.

As Rachel begins to uncover what really happened on the day her parents were murdered, she learns—as her mother did years earlier—that home can be a place of unspeakable evil, and that the bond she shares with her sister might be the most poisonous of all.
The Wicked Sister by Karen Dionne wasn't on my radar until I spotted Andi Arndt listed as a narrator. I am delighted that I did because Dionne delivered a creeptastic and addictive psychological thriller that I devoured.
Narrated by Kristen Sieh in the present and Andi Arndt in the past, Dionne shared a twisted tale that kept me guessing.
Rachel Cunningham lives in a mental hospital because she believes she did the unthinkable. When she was eleven, she went missing in the woods. She has lost memory of that time. The only thing she remembers is holding the gun that shot and killed her mother….
Eep… when our tale opens, Rachel is an adult and self-punishing herself when a young reporter interviews her. During his interview, he shares police reports that Rachel has never been privy to. They cast doubt on her beliefs. Needing answers, she returns to her childhood home. There she hopes to unlock her memories and discover what really happened.
The author shares Rachel's discoveries but also takes us back and shares life before the shooting through the perspective of her mother. This proved to be equally suspenseful.
The plot was tightly woven as Dionne slowly built up the suspense and revealed key aspects.
Did I mention her Aunt and older sister reside in the secluded cabin? That they don't know she is there? The author makes the listener question Rachel and her memories. Some I saw coming and other revelations made me stand up and shout.
Rachel is an unreliable narrator and we learn how much she has locked away of her memories. Chilling and perfectly paced, I connected with both voices and narratives.
I loved the dual narration and felt both narrators gave voice to their protagonists. Both amped up the suspense. The story lent itself perfectly to audio. Kristen Sieh was new to me, but I will gladly listen to her again. I adore Andi Arndt and loved seeing her in this genre. The two paired well together from pacing to tone.
If you are looking for an atmospheric edge of your seat, listen you cannot go wrong with The Wicked Sister. I look forward to more from this author!
Narrated by Andi Arndt and Kristen Sieh, The Wicked Sister by Karen Dionne is a #mustlisten for fans of thrillers. Suspenseful and addictive. #audiobook #thriller
Click To Tweet
Reading this book contributed to these challenges:
Related Posts