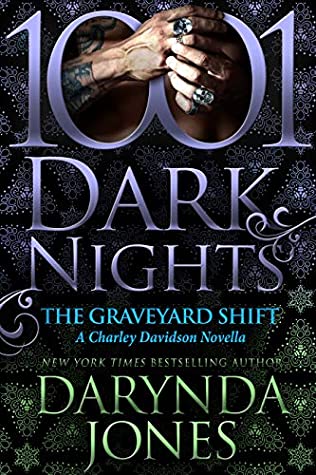 The Graveyard Shift
by Darynda Jones
Series: Charley Davidson #13.5
Genres: Urban Fantasy
Source: Purchase
Purchase*: Amazon *affiliate
Rating:

Heat Level:
Guarding a precocious five-year-old who is half-human, half-god, and 100% destined to save the world is no easy feat.

Garrett Swopes was the ultimate skeptic until he met a certain hellion and her husband. They vanished after stopping a catastrophic event and left him, a mere mortal, in charge of protecting their gift to mankind. But when she disappears as well, he needs the help of another breed of hellion. One who can see past the veil of space and time. One who betrayed him.

She will get a truce in the deal, but she will never earn his forgiveness.

Marika Dubois's son—a warrior in the coming war between heaven and hell—was foreseen long before his birth. But to create a child strong enough to endure the trials that lay ahead, she needed a descendant of powerful magics. She found that in Garrett Swopes and tricked him into fathering her son. A ploy he has never forgiven her for. But when he knocks on her door asking for her help, she sees the fierce attraction he tries to deny rise within him.

And Marika has to decide if she dares risk her heart a second time to help the only man she's ever loved.
Garrett Swopes, Elwyn Alexandra Loehr, and holy developments! The Graveyard Shift by Darynda Jones is a 1001 Dark Nights novella, set in the Charley Davidson world. It is a treat for fans and a standalone intro for newbies.
I love Garret. Ok, I love many of the characters in this world, but like Charley, I have a fondness for this human. ? Garret heads up the security team assigned to guard Elwyn Alexandra Loehr affectionately known as Beep along with her grandparents. Only while on duty he loses her. Yep… who wants to tell Reye and Charley? The tale that unfolds brings us closer to Beeps' books and shares a romance, plenty of twists, and some freaky danger. Eep!
To find Beep, he enlists the help of Marika Dubois. She is the mother of his son and their relationship is, well, complicated. I loved their interactions, the magic and her tenacity.
I cannot get enough of this world and characters. It's like candy! Jones knows how to weave a tale, even a novella. She delivered tidbits for her fans, teased newcomers, offered a romance and even managed some sexy times all while giving us a glimpse of Beeps childhood.
Grab it, you won't be disappointed! I laughed, swooned and delighted in the hint of things to come. Cameo appearances from beloved characters sent me over the top and left me craving a cup of coffee.
The Graveyard Shift by Darynda Jones for old and new fans alike. Jonez delivered swoons, laughter, danger and more of the characters we love! #UrbanFantasy #novella #CharleyDavidson
Click To Tweet
Reading this book contributed to these challenges:
Related Posts