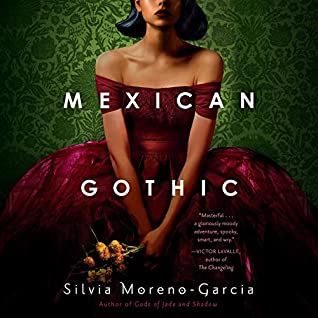 Mexican Gothic
by Silvia Moreno-Garcia
Narrator: Frankie Corzo
Length: 10 hours and 39 minutes
Genres: Historical Fiction, Horror
Source: Publisher
Purchase*: Amazon | Audible *affiliate
Rating:

Narration: 5 cups Speed: 1.25x

An isolated mansion. A chillingly charismatic artistocrat. And a brave socialite drawn to expose their treacherous secrets. . . .

From the author of Gods of Jade and Shadow comes a terrifying twist on classic gothic horror set in glamorous 1950s Mexico.

After receiving a frantic letter from her newly-wed cousin begging for someone to save her from a mysterious doom, Noemí Taboada heads to High Place, a distant house in the Mexican countryside. She's not sure what she will find—her cousin's husband, a handsome Englishman, is a stranger, and Noemí knows little about the region.

Noemí is also an unlikely rescuer: She's a glamorous debutante, and her chic gowns and perfect red lipstick are more suited for cocktail parties than amateur sleuthing. But she's also tough and smart, with an indomitable will, and she is not afraid: Not of her cousin's new husband, who is both menacing and alluring; not of his father, the ancient patriarch who seems to be fascinated by Noemí; and not even of the house itself, which begins to invade Noemi's dreams with visions of blood and doom.

Her only ally in this inhospitable abode is the family's youngest son. Shy and gentle, he seems to want to help Noemí, but might also be hiding dark knowledge of his family's past. For there are many secrets behind the walls of High Place. The family's once colossal wealth and faded mining empire kept them from prying eyes, but as Noemí digs deeper she unearths stories of violence and madness.

And Noemí, mesmerized by the terrifying yet seductive world of High Place, may soon find it impossible to ever leave this enigmatic house behind.
Atmospheric and chilling Silvia Moreno-Garcia's Mexican Gothic narrated by Frankie Corzo drew me in and held me captive. Fans of gothic horror will be drawn to this tale with its creepy mansion setting.
From the cover to the hype, I knew I needed to listen to Mexican Gothic. I've long been a fan of gothic horror and this has all the classic elements readers and listeners alike enjoy.
The Setting is an eerie, neglected and damp mansion. After her father receives a suspicious letter from her recently married cousin Catalina, Noemi is sent to High Place. Set in the Mexican countryside this remote setting proved atmospheric.
Noemí is headstrong, smart and not at all pleased to be going but does her duty. She doesn't know Catalina's husband or his strange family, but she is determined to help Catalina. Alone and at the mercy of this strange, unsettling family, she discovers the unthinkable….
The tale that unfolds was creeptastic, gory, and twisted. It will leave you sleeping with the lights on. The author's prose and vivid descriptions of the home and the people within sent goosebumps down my spine.
Noemí finds herself living a nightmare and questioning her own sensibilities as sounds emerge from the walls and dreams blend into reality.
With help from the family's youngest son, Noemí will need to learn the secrets of this family beginning with the ancient patriarch. The author makes the unimaginable seem real and the terror very real.
The cast of characters from locals to the family were well developed and had me questions their motives, reactions and poor Catalina's medical state.
Frankie Corzo did a wonderful job with the narration. From her tone to the voice she gives our protagonist, she enhanced the tale. Between the author's descriptive writing and Corzo's tone there were moments that had me clutching a blanket, unable to blink.
Fans of gothic horror will be drawn to this tale with its creepy mansion setting. Narrated by Frankie Corzo, we recommend you leave the lights on when listening. #Horror #Audiobook #NewRelease
Click To Tweet
Reading this book contributed to these challenges:
Related Posts