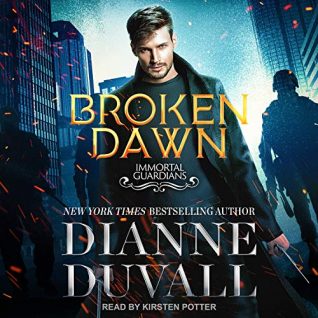 Broken Dawn
by Dianne Duvall
Series: Immortal Guardians #10
Narrator: Kirsten Potter
Length: 8 hours and 52 minutes
Genres: Paranormal Romance
Source: Publisher
Purchase*: Amazon | Audible *affiliate
Rating:

Heat Level:

Narration: 4.5 cups Speed: 1.3x

Delve into an exciting new stand-alone novel in New York Times bestselling author Dianne Duvall's "fast-paced and humorous" (Publishers Weekly), "utterly addictive" (RT Book Reviews) Immortal Guardians series.

Nick Belanger can't stop thinking about the single mother who lives next door. She's smart. She's funny. She's so beautiful he can't stare at her too long for fear his eyes will start to glow. But Kayla thinks he's just an ordinary guy who works in security. Finding out he instead is a powerful immortal warrior who hunts and slays psychotic vampires for a living may not go over well, particularly since she has a daughter she doesn't want to endanger.

Kayla Dorman can keep neither her gaze nor her thoughts from straying to the man next door. Who can blame her really? He is the epitome of tall, dark, and handsome with smart, charming, and honorable thrown in. He's also a few years younger than her and surely would not be interested in a single mom who hasn't dated since her divorce. At least that's what she thinks until an accident nearly takes her life and Nick risks all to save her.

The dynamics of their relationship swiftly change. The friendship they've developed over the years deepens into love as the two spend every minute they can together, laughing and teasing, never suspecting a threat may lurk in the shadows. But that threat soon strikes, making it clear that Nick is the target and his enemy doesn't care if Kayla gets caught in the cross fire. Though Kayla bravely rises to the occasion and is determined to do whatever it takes to help Nick defeat his enemy, Nick is terrified of losing her. Can he identify and eliminate his new nemesis before the man takes everything from him?
I have read most of the Immortal Guardians but recently had listened to some of Duvall's books and loved them on audio. Despite pre-ordering a copy, I dove into Broken Dawn by Dianne Duvall on audio. I was not disappointed.
Narrated by Kirsten Potter, and set in Houston, this story shares Immortal Guardian Nick Belanger's story. Swoons and danger await you when an accident brings him everything he has always wanted, but someone from Nick's past could cost him it all.
The story picks up after the events of Death of Darkness and while some threads connect, the story and romance will work as standalone. Although I can assure you from personal experience, you'll be racing to grab the previous released books.
Divorcee Kayla Dorman and her daughter live next door to Nick and Oliver. Nick has crushed on her since they moved in and even with Kayla's daughter away at college he hasn't made a move. She thinks he is a security guard and hasn't a clue Immortals, vampires and gifted ones exist.
Kayla fantasizes about how Nick's lips would taste, but why would the sexy, tall hottie next door have any interest in her, besides he has a girl. Or does he?
I loved the chemistry and banter between these two. I swooned and laughed as our story opened. A missed appointment changes everything and forces the two to spend time together. I loved it all from the telling to the hot teasing.
A desperate and powerful man from Nick' past emerges and places them in danger. The tension increased with every dangerous scene; as did the feelings these two shared. I loved the interaction with other Immortals and Seth.
When Oliver and Kayla were in trouble, Kayla was level-headed and kick-ass. All of Duvall's female characters have an inner strength and fight to them. Kayla is no different. Seeing her defend those stronger than her made me grin. Her daughter was a hoot too. I loved her talk with Nick.
Kirsten Potter does a stellar job with the narration. Her male voices, accents, and emotions were brings is spot on. I plan on continuing listening to Duvall's books on audio. Her writing style lends itself well to audio and the narrators add an extra swoon to the telling.
If you're looking for suspense, swoons, laughter and kickassery grab Broken Dawn. You won't be disappointed.
Broken Dawn By Dianne Duvall delivered suspense and swoons #audiobook #ImmortalGuardians #JIAM #NewRelease #MustListen
Click To Tweet
Reading this book contributed to these challenges:
Related Posts