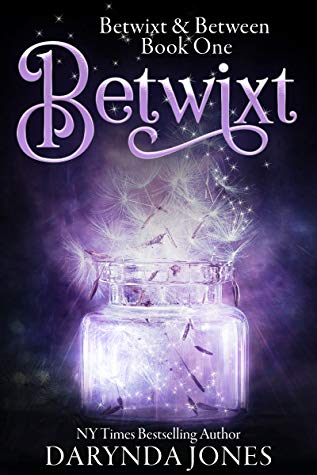 Betwixt
by Darynda Jones
Series: Betwixt & Between #1
Narrator: Traci Odom
Length: 6 hours and 45 minutes
Genres: Paranormal Women's Fiction
Source: Purchase
Purchase*: Amazon | Audible *affiliate
Rating:

Narration: 5 cups Speed: 1.3x

Divorced, desperate, and destitute, former restaurateur Defiance Dayne finds out she has been bequeathed a house by a complete stranger. She is surprised, to say the least, and her curiosity gets the better of her. She leaves her beloved Phoenix and heads to one of the most infamous towns in America: Salem, Massachusetts.

She's only there to find out why a woman she's never met would leave her a house. A veritable castle that has seen better days. She couldn't possibly accept it, but the lawyer assigned to the case practically begs her to take it off her hands, mostly because she's scared of it. The house. The inanimate structure that, as far as Dephne can tell, has never hurt a fly.

Though it does come with some baggage. A pesky neighbor who wants her gone. A scruffy cat who's a bit of a jerk. And a handyman bathed ink who could moonlight as a supermodel for GQ.

She decides to give it three days, and not because of the model. She feels at home in Salem. Safe. But even that comes to a screeching halt when people begin knocking on her door day and night, begging for her help to locate their lost objects.

Come to find out, they think she's a witch. And after a few mysterious mishaps, Dephne is beginning to wonder if they're right.
Darynda Jones is a favorite here at Caffeinated. Betwixt is the first book in the Betwixt & Between trilogy. A unique house, a handyman in a kilt and secrets await Defiance Dayne when she is bequeathed a house by a complete stranger.
Newly divorced, broke and desperate, Defiance drives her Volkswagen bug to Salem, Massachusetts on the off chance the home she has inherited isn't s hoax.
Betwixt hooked me from the beginning, and once Jones introduced the mysterious handyman…I slipped away and devoured this in a single sitting.
I loved the backstory, the magical elements and the secondary characters. Some are of this world and others are not. Defiance's best friend from Phoenix, and her Dads show up. Each added to to the mix from support to humor.
Mysteries, a little danger and plenty of paranormal woo-woo made this paranormal women's fiction a delight. There is a smidgeon of romance… but you must read to find out.
If you have ever read Darynda Jones novels, you know how her last chapters are. Things wrapped up well and in the last paragraph she dropped a bomb that has me eager for the next installment.
A unique house and a secret await you in Betwixt by Darynda Jones #ParanormalWomensFiction #Betwixt&Between
Click To Tweet
Updated to include audio edition.
Traci Odom narrates the audiobook and I had the chance to listen. I thought she was the perfect choice and captured Defiance's personality and the tone of the story. The audiobook added another level of enjoyment and swoons with our kilted hero.
Related Posts