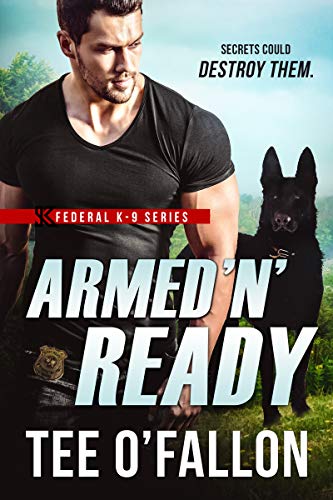 Armed 'N' Ready
by Tee O'Fallon
Series: Federal K-9 #2
Genres: Romantic Suspense
Source: Purchase
Purchase*: Amazon | Audible *affiliate
Rating:

Heat Level:
Massachusetts State Police Sgt. Nick Houston is as tough as they come, and he and his K-9, Saxon, are hot on the trail of a major illegal gun dealer. But his best lead—the beautiful owner of the Dog Park Café, Andi Hardt––is not cooperating. Doesn't matter how sexy she is, or that his dog seems to be in love with her. She's a suspect and he won't cross that line. Ever.

Andi Hardt sank everything into her dream business—the Dog Park Café, a restaurant catering to dogs as much as people. Now everything is in jeopardy because of one extremely frustrating, incredibly hot state trooper. Like it or not, she's in Nick's crosshairs, and he's calling the shots. Her only option: cooperate, or lose everything she's worked so hard for.

Nick and Andi are catapulted straight into the danger zone, forcing them to make life-altering choices, and face their desires. Risking his life for Andi is the easy part. Risking his heart is the toughest assignment Nick will face.
Somehow I missed this release and read the other books in the series before finally picking up Armed 'N' Ready by Tee O'Fallon. I am so glad I went back. Suspenseful, heartfelt and swoon-worthy it gave me all the feels.
Andi Hardt, owner of Dog Park Café, and her dog, Stray are staying at her friend's home thanks to plumbing problems. He's out of town when Massachusetts State Police Sgt. Nick Houston and his K-9 Saxon arrive to executing a search warrant of the home. From the onset I loved the crazy tension and chemistry between these two; even if he is eying her with suspicion.
It seems the police suspect her best friend of money laundering and arms sales. He apparently did an illegal wire transfer from her business account and now they think she is involved! Her friend is in deep. Not only is he wanted by the police, but some creeps want him dead. Andi will need to corporate to clear her name and save her business.
Nick goes undercover as the new bartender at the Dog Park Café and the tension sizzles as the danger intensifies. This is my first series by O'Fallon and I love how realistic she makes her characters. These two felt genuine from their backstories to their attraction.
The case was intense, and the romance had all the elements I love. We faced a few obstacles, thanks in part to the boys at the office and the explosive wrap up to the case that had me gripping my Kindle and hoping for a positive outcome. The storyline brought tears, laughter, surprises and more.
If you are a fan of K-9 romantic suspense stories you won't want to miss Armed 'N' Ready and the entire Federal K-9 series!
Suspenseful, heartfelt and swoon-worthy Armed 'N' Ready by Tee O'Fallon delivered. #FederalK9 #romanticsuspense #mustread
Click To Tweet
Reading this book contributed to these challenges:
Related Posts