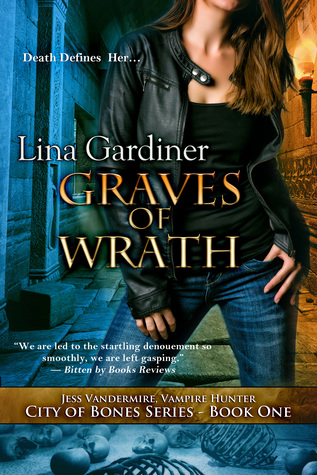 Graves of Wrath
by Lina Gardiner
Series: City of Bones #1
Genres: Urban Fantasy
Source: Author
Purchase*: Amazon *affiliate
Rating:

Heat Level:

DEATH DEFINES HER . . .

When Jess Vandermire, Captain of New York City's Vampire Hunting team, learns that her brother, Regent, has been sent to Paris for three months by the Vatican, she's devastated. Regent's been too involved with vampires as a priest to go to Paris without fearing vampire retribution. He'll need backup. Lucky for him, Jess and her partner, John Brittain, have some vacation time coming.

Once Jess and Britt arrive, they know something's not right in the city. Women are being murdered, and the vampire population is on the edge of revolt. But worst of all, the City of Lights is home to a lot of shadows, ones that move—and kill—of their own accord. But Jess's existence is rocked to the core when Regent comes across a life-changing, long lost family secret.

It's starting to look like there'll be no rest for the wicked.

City of Bones—some secrets don't stay buried . .
Graves of Wrath, the first book in the City of Bones urban fantasy series by Lina Gardiner took us to Paris where a dark shadow is hunting humans and vampires alike.
This is the first book in the City of Bones series, but it is also a spinoff or continuation of the Jesse Vandermire, Vampire series. It wasn't necessary to read the previous books, as I did not. However, the players and romance are already established. I felt I missed out a little on their connections. The story held its own, and I quickly became caught up in the suspense.
While this falls between a paranormal romance and an urban fantasy it will survive without the romance. Therefore, I classified it as urban fantasy. (thank you Ilona Andrews)
Jesse is Captain of the New York City's NYPD Vampire Hunting team. When her brother Regent, a Catholic priest, is given a secretive assignment by the Vatican, Jess gets a tingle. That turns into a niggle. Unable to ignore the sense of foreboding, she takes a sabbatical and heads to Paris. Her lover and team member, John Brittain accompanies her.
Welcome to the City of Bones. While I felt a little left out regarding relationships and supernatural abilities Gardiner soon brought me up to speed. Jess was right, there is something sinister in Paris.
I found the case, the French police, the underground and the church all to be fascinating. A murky shadow is possessing and killing humans and vampires. The Church's take was fascinating as were the ideas Jess and her team uncovered. The suspense slowly built until the action exploded.
I enjoyed the pace, developments and side stories, like that of a young vampire.
This was a fresh tale mixing mythology, paranormal creatures and an unlikely crew comprising of an angel, a priest, a vampire and a scientist.
The next book, Silence by the Grave is available and I will share my review in late June. For those using Kindle Unlimited the series is available.
Related Posts