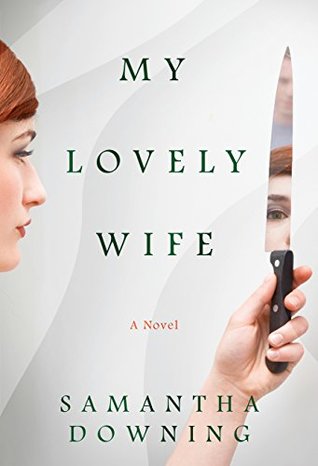 My Lovely Wife
by Samantha Downing
Genres: Thriller
Source: Publisher
Purchase*: Amazon | Audible *affiliate
Rating:
Dexter meets Mr. and Mrs. Smith in this wildly compulsive debut thriller about a couple whose fifteen-year marriage has finally gotten too interesting...

Our love story is simple. I met a gorgeous woman. We fell in love. We had kids. We moved to the suburbs. We told each other our biggest dreams, and our darkest secrets. And then we got bored.

We look like a normal couple. We're your neighbors, the parents of your kid's friend, the acquaintances you keep meaning to get dinner with.

We all have our secrets to keeping a marriage alive.

Ours just happens to be getting away with murder.
I was in the mood for an unreliable, suspenseful thriller and grabbed My Lovely Wife by Samantha Downing. This twisty tale will grab you! Even if you figure things out along the way, the story will trap you!
Millicent and her husband are your typical suburban couple. Both work, while raising two children in a coveted neighborhood, but they share a deadly secret.
Samantha Downing tells the story from the perspective of Millicent's husband, a tennis instructor for the local country club. They've been married fifteen years, but as he narrates we learn that things are much darker than they seem. The two have some after-hours activities that would be horrify the Jones'.
I really enjoyed the way Downing unfolded this tale. Without spoilers, I will tell you this couple committed murder, but that is just the beginning of the game. Wooziers. As we learn what that've done, they also bring us along as they plan another. Throughout the tale the husband shares how they met, we learn things about Millicent's childhood and how they raise their children. Everything is relevant and the pacing and unfolding just pull you in. I devoured this in two sittings.
They recommend this for fans of Dexter. I think that is a fair assumption. If you enjoyed the book/series, you'll easily slip into this.
I figured the plots path early on but after reflection I think the author purposefully allowed the reader to grasp the bigger picture. Let us just say the game is afoot. Climatic twists, diabolical discoveries and deceit abound. If you are looking for an addictive thriller, grab My Lovely Wife.
My Lovely Wife by Samantha Downing offered a dark, twisted thriller that will keep you flipping the pages #NewRelease #Thriler #MyLovelyWife
Click To Tweet
Reading this book contributed to these challenges:
Related Posts