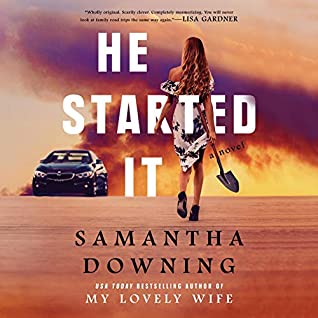 He Started It
by Samantha Downing
Narrator: Karissa Vacker
Length: 9 hours and 49 minutes
Genres: Thriller
Source: Publisher
Purchase*: Amazon | Audible *affiliate
Rating:

Narration: 5 cups Speed: 1.3x

From the twisted mind behind mega hit My Lovely Wife comes the story of a family—not unlike your own—just with a few more violent tendencies thrown in....

Beth, Portia, and Eddie Morgan haven't all been together in years. And for very good reasons—we'll get to those later. But when their wealthy grandfather dies and leaves a cryptic final message in his wake, the siblings and their respective partners must come together for a cross-country road trip to fulfill his final wish and—more importantly—secure their inheritance.

But time with your family can be tough. It is for everyone.

It's even harder when you're all keeping secrets and trying to forget a memory—a missing person, an act of revenge, the man in the black truck who won't stop following your car—and especially when at least one of you is a killer and there's a body in the trunk. Just to name a few reasons.

But money is a powerful motivator. It is for everyone.
Summer is the perfect time for a cross-country road trip. Join the Morgans for a suspenseful thriller you won't be able to set down.
He Started It by Samantha Downing, narrated by Karissa Vacker introduces us to the Morgan siblings. Beth, Portia, and Eddie have been estranged for years. When their wealthy grandfather dies, a stipulation in the will has the siblings and their respective partners coming together for a cross-country road trip to fulfill his last wish. They must complete the trip if they want to receive their inheritance. The estate is valued at around eight million dollars.
The road trip isn't a new one. In fact, it is an exact duplicate of the trip they took one summer with their grandfather and their older sister. Told from the voice of Beth, Drowning pulled me in with quick facts and teasing tidbits. I knew I was in for one heck of a ride. Before it's all over secrets will be revealed, and a murder will take place as it holds the listener spellbound.
Twisted and wholly original, I cannot say I liked any of the Morgans but I found them utterly fascinating. From their past trip to their current one, Downing had me listening intently, sometimes doubting our protagonist and sitting jaw-dropped as she recounted their first road trip.
Along the way we stop at iconic sites across the Mid-West. Some I've seen myself and others were new to me. The ending left me stunned.
Karissa Vacker narrates and the author's writing lends itself to audiobook format from character conversations to suspenseful buildup. Vacker enhanced the story from her tones to character voices. Her pacing made listening a breeze allowing me to become swept up in the story.
This is the second novel I've listened to by Downing and she is fast becoming a favorite go to author for unique thrillers.
Road Trip! Join the Morgan siblings on their cross-country road trip in He Started It by Samantha Downing. #thriller #audiobook #KarissaVacker
Click To Tweet
Reading this book contributed to these challenges:
Related Posts