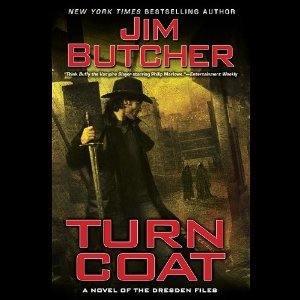 Turn Coat
by Jim Butcher
Series: The Dresden Files #11
Narrator: James Marsters
Length: 14 hours and 36 minutes
Genres: Urban Fantasy
Source: Purchase
Purchase*: Amazon | Audible *affiliate
Rating:

Narration: 5 cups
The Warden Morgan has been accused of treason against the Wizards of the White Council - and there's only one, final punishment for that crime. He's on the run, wants his name cleared, and needs someone with a knack for backing the underdog. Someone like Harry Dresden....
Now, Harry must uncover a traitor within the Council, keep a less-than-agreeable Morgan under wraps, and avoid coming under scrutiny himself. And a single mistake may cost someone his head - someone like Harry
The minute Morgan showed up on Harry's doorstep I knew we were in for one heck of a ride. Turn Coat by Jim Butcher is the eleventh novel in the Harry Dresden files. I have been continuing my audio binge with narrator James Marsters. In fact, I am 90% into Changes as this review publishes.
When Warden Morgan is suspected of treason against the Wizards of the White Council, he turns to Harry. If you've been reading or listening to the series, you know how hard this must have been for Morgan. 
Someone has murdered a member of the White Council and Morgan is on the run suspected of committing the crime. Harry would love to turn him in, but this had to be an inside job and with his luck they'll accuse him of something next. Spiders in the woods, traitors and a skin-walker soon have Harry and his friends testing their abilities.
I loved the story that unfolded and believe it to be the best of the series to date. I know, I know I say this with each book..but it was. Not only was I emotionally invested but we bear witness to enemies becoming allies and see friendships tested. I've never cared for Morgan but by the end I found him to be rather noble.
The White Council is in a pickle and the political climate for paranormals and supernaturals is being tested. The Black Council is gaining more power and they must answer this attack. Senior Council member Listens to Wind impressed me, angered me and told it like it was.
Molly makes a mistake and I seriously worry about her position as a wizard. Murphy was absent, and I missed our brave officer. Thomas plays a key role and Harry's love for him is evident. I adored Mouse and firmly believe all urban fantasy series need a dog or suitable companion for their hero.
Nail biting moments, battles, betrayals and more kept me listening. If you haven't yet listened to this series, I cannot recommend it enough. I laugh, pull my hair out and lose sleep. James Marsters is brilliant and once again made listening a pleasure.
Warden Morgan needs help and Harry Dresden may be the only one who can help him. Turn Coats by Jim Butcher. Narrated by James Marsters #urbanfantasy #iloveaudiobooks
Click To Tweet
Reading this book contributed to these challenges:
Related Posts