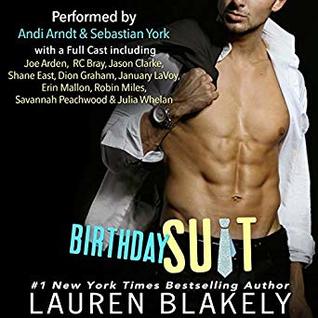 Birthday Suit
by Lauren Blakely
Narrator: Andi Arndt, Sebastian York, Full Cast
Length: 7 hours and 16 minutes
Genres: Contemporary Romance
Source: Author
Purchase*: Amazon | Audible *affiliate
Rating:

Heat Level:

Narration: 5 cups
There is no rule in the Man Code as unbreakable as this: no matter how beautiful, smart, clever, and witty she is, do not—under any circumstances—fall in love with your best friend's woman.
Yeah. So there's that. Look, it's not like I didn't know I screwed up by falling for her.
Also, for the record, unrequited love sucks big time.
And, I might have cut myself some slack by now, given everything that went down in the last few years, but Lulu just walked back into my life in a big way.

***
There are three things I've never been able to resist—my friends, my family, and chocolate.
Leo Hennessy? He was nowhere on that list. He's been a true friend—a friend who walked through hell and back with me.
Now, I'm stepping into my new future. I didn't expect it to include a riddle-filled, race-against-the-clock scavenger hunt across New York City.
With Leo.
Suddenly, I'm looking at this man with new eyes...
But my life spun out because of a man once before, and I can't risk my fresh start, no matter what the temptation. And Leo is most definitely a temptation of the sexiest, sweetest, and most dangerous variety.
More irresistibly delicious than chocolate...
If you've never listened to an audiobook delivered by a full cast of characters, Birthday Suit is the romance comedy to grab. A "friends to lovers" romance that will make you swoon and laugh performed by a brilliant cast of beloved narrators! Bravo to Lauren and to these talented voices!
Performed by Andi Arndt, Sebastian York along with January LaVoy, Julia Whelan, R.C. Bray,, Shane East, Joe Arden, Erin Mallon, Dion Graham, Savannah Peachwood, Jason Clarke, and Robin Miles. I devoured this audio. I had been following the making of the audiobook thanks to clips, videos and more provided by Blakely and suspected this would be downright awesome and oh baby..it was!
There's only one rule a man should never break. Don't fall for your best friend's woman…
Caffeinated Reasons to Grab Your Earbuds and listen to Birthday Suit
You love a sweet, adorkable, sexy romance that delivers all the feels while giving your ears goosebumps!
What happens when you love your best friend's girl from the moment you both met her? You say nothing, do nothing and be their best friends. Forever..until suddenly things change. I love the best friend trope and this had a twist. While I saw it coming, Blakely has a gift in the telling.
Foodie books excite you and the mention of chocolate makes you melt! Set in NY, these two meet up again at a Chocolate convention.
You love dual narratives and all the thoughts…so many thoughts!
You love a RomCom and hilarious one-liners that will make you burst out laughing as you write it down to remember.
If you like to become emotionally invested in the characters and tend to yell at them…you need Birthday Suit.
The full cast narration with some of our favorite narrators was just icing on the cake for this romance. Love it!
A sexy, adorkable romance with a full cast of narrators = Eargasm! Birthday Suit by Lauren Blakely #mustlisten #iloveaudiobooks
Click To Tweet
Reading this book contributed to these challenges:
Related Posts