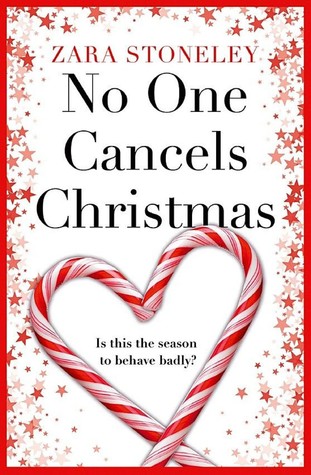 No One Cancels Christmas
by Zara Stoneley
Genres: Contemporary Romance
Source: Publisher
Purchase*: Amazon *affiliate
Rating:

Heat Level:

A holiday she'll remember forever…

It's the most magical time of the year, and for travel agent Sarah it's also the busiest! But this year one man threatens to ruin Christmas for Sarah's customers – Mr Grinch, Will Armstrong.

The Shooting Star Mountain resort is a magical place, and Sarah has fond memories of Christmas here as a little girl – visits to Father Christmas, husky rides in the snow and hot chocolate by a roaring fire. But as the resorts new owner, Will refuses to play snowball or to deck the halls with anything remotely resembling tinsel!

With customers complaining their Christmas is ruined, Sarah decides it's up to her to convince Scroogey Will just how magical Christmas can be….

But getting Will into the Christmas spirit is hopeless – he is Bah Humbug personified! But as Sarah gets to know him better, she realises that underneath all the gloom is a man struggling with a pain of his own.

With the big day approaching, Sarah realises that the magic and sparkle can wait. This year, she's going to spend Christmas day with someone special her very own Mr Scrooge…
No One Cancels Christmas by Zara Stoneley offered humor and healing in a picturesque setting.  Grab a cup of hot cocoa and meet our zany, complicated heroine Sarah as she takes on Mr. Grinch himself, Will Armstrong.
Sarah works at a travel agency owned by the woman who raised her. The agency prides itself on recommending magical destinations and they've sent many happy clients to Shooting Star Mountain Resort. However, since new owners acquired the resort complaints have come fluttering in and one client is threatening to sue.
Back and forth witty email exchanges between the new owner (Will) and Sarah begin. The man is beyond frustrating.  I loved the emails and could feel an underlying chemistry building.
Fearing the agencies ruin, and annoyed at the frosty owner, Sarah books a stay. She plans to investigate matters and face down Will, aka, Mr. Grinch in person.
What follows is a touching, sweet and heartwarming tale.  Sarah and Will face their own personal demons, save the holiday and perhaps find something more.
The story is very wordy, and we spend a lot of time in Sarah's head.  Sarah reminded me of the character, Bridget Jones. Her inner dialogue was hilarious, highlighted her own insecurities and allowed the reader to come to care for her. Will is dealing with some life altering issues and isn't quit the Scrooge we initially thought.
Secrets, confrontations, healing and new chances are central themes in this feel-good story. Our heroine tries to recapture that magical feeling of Christmas.
The Canadian setting was beautiful from the snowy mountains to the cozy log cabins. I wanted to curl up by the fire, watch the snowfall and enjoy some hot cocoa.
From snogging to shagging the book is relatively clean and I would classify this as chick-lit or women's fiction. We spend time with family, friends and witness wonderful character growth.
While No One Cancels Christmas wasn't my favorite holiday read this season it was fun reading a British Christmas story.
[bctt tweet="No One Cancels Christmas by Zara Stoneley offered humor and healing in a picturesque setting.  Grab a cup of hot cocoa as zany Sarah takes on Mr. Grinch himself. #holiday #Christmas #eBook" username="kimbacaffeinate"]
Reading this book contributed to these challenges:
Related Posts