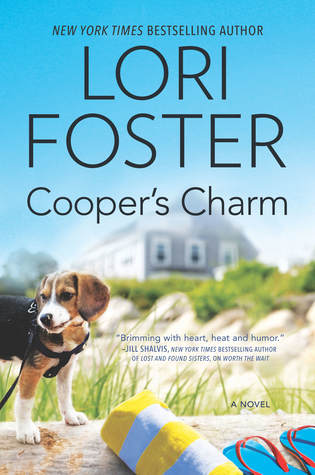 Cooper's Charm
by Lori Foster
Series: Summer Resort #1
Genres: Contemporary Romance
Source: Publisher
Purchase*: Amazon | Audible *affiliate
Rating:

Heat Level:

One summer, two sisters and a chance to start over…

Before the burglary that shattered her confidence, Phoenix Rose had a fiancé, a successful store and a busy, happy existence. After months spent adrift, she takes a job at the lakeside resort of Cooper's Charm. Surrounded by beautiful scenery, friendly colleagues and a charismatic, widowed boss, Phoenix is slowly inching her way back into the world.

Visiting Cooper's Charm to check up on her little sister, Ridley Rose impulsively agrees to fill in as housekeeper. Still reeling from an ego-bruising divorce, she finds satisfaction in a job well done—and in the attention of the resort's handsome scuba instructor.

For Phoenix and Ridley, Cooper's Charm is supposed to be merely temporary. But this detour may lead to the place they most need to be, where the future is as satisfying as it is surprising…
Cooper's Charm by Lori Foster is the first novel in her latest series, Summer Resort. The tale takes place at Cooper's Charm, a peaceful, family oriented lakeside campground complete with RV hookups, cabins and scuba lessons. For the Rose sister's it is a place that brings healing, trust, and fresh beginnings.
Phoenix Rose, a landscaper by trade is hoping to begin anew after an event upended her life. She packs up all of her belongings and travels to the picturesque, lakeside resort known as Cooper's Charm. She has applied for the groundskeepers position and is determined to nail the interview.
Cooper's Charm is a quaint family oriented campground offers all the amenities including a sweet loft cabin to call home. Phoenix and Cooper's first encounter was interesting and gave the reader insight into both characters. I quickly found myself pulled into the story.
I liked Phoenix and connected with her. Readers will respect her strength, identify with her insecurities and fall for Cooper right along with her. Cooper, is the owner of Cooper's Charm, with a home on the lake overlooking the campground. Cooper bought the place after a tragedy changed his life, so he recognizes what Phoenix is going through. She hasn't told him, but he knows about her past, thanks to Google. Phoenix stirs something in him and the chemistry between them is sweet, entertaining and delightful to witness.
Foster's characters are well-developed and realistic. We get to meet lots of secondary characters at the resort and I am already itching for their stories. We are even treated to a secondary romance. Phoenix's older sister, Ridley Rose, shows up unexpectedly to check on her sister. When there is a housekeeping problem, Ridley steps in and decides this might be the perfect place to lick her wounds after a painful divorce. I loved the heated, magnetic, snarky romance that developed for Ridley. While Cooper and Phoenix's romance is sweet, slow-burning, and soothing, Ridley's is scorching. The banter was hilarious. Something is simmering between the maintenance guy and the store manager too, I cannot wait for their book.
An adorable dog and suspenseful thread added interest and presented a climactic ending. The story wraps up nicely but will leave readers yearning to return. Fans of small-town romances will want to reserve a cabin and devour Cooper's Charm.
Readers are going to want to reserve a cabin and devour Cooper's Charm by Lori Foster #newrelease the first in her Love at the Resort series #romance #mustread
Click To Tweet
Reading this book contributed to these challenges:
Related Posts