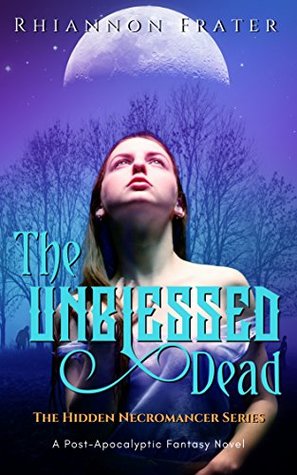 The Unblessed Dead
by Rhiannon Frater
Series: The Hidden Necromancer #1
Genres: Post-Apocalyptic, Fantasy
Source: Purchase
Purchase*: Amazon *affiliate
Rating:
When I younger, my mother saved my settlement from the Unblessed Dead that would have killed us all. It cost her everything to reveal her necromancy and sent shockwaves through our stringent religious settlement. Convicted of heresy against our sacred Lost Texts, she died soon after.
Since then, I have worked hard to maintain my Pious Standing so that when I turn eighteen I will be selected by a suitable husband at the Bridal Auction.
As the large clock in town square ticks down to my eighteenth birthday, the dead have been appearing in my garden. If I'm discovered, I'll face the Necromancer Trial just as my mother, oldest sister, and I did all those years ago. This time I fear I will not survive it.
To add to my worries, an enigmatic handsome young man has arrived in the settlement. Around him swirls a green aura only I can see. Is he here to help me? Or does he have more nefarious plans?
My name is Ilyse Nott, and I fear I am a necromancer.
If I am, my life is over.
The Unblessed Dead by Rhiannon Frater is the first in her new series, The Hidden Necromancer. The world was overrun by zombies and slowly rebuilt despite the continued threats.  Frater takes us into a religious settlement which has cut ties with the new world. Frightening and suspenseful The Unblessed Dead was an addictive page-turner.
The world was overrun by zombies, and vast areas of the continent remain infested. Walled settlements have developed, some modernized and all connected by railway.  Some groups seeking solace made drastic changes to avoid past mistakes. Frater takes us into a religious settlement with an Anabaptist feel. They follow the Lost Texts. These texts have a familiar vibe; men rule and handle business while women marry and must be modest etc. They also believe necromancers caused the zombie outbreak and that only females can become necromancers since they are the weaker sex and most likely to sin. Worlds like this fascinate me, and I was excited to dive in.
From the first sentence,  "I awoke to discover a dead man standing in my garden." I was all in. Our protagonist, Ilyse is the one who woke to find the dead man in her garden. She and her younger sister quickly returned the familiar zombie to the sacred graveyard. Oh yeah… I need to know more.
The story that unfolds was refreshingly original and exactly what I have come to expect when I read Frater's work.  She fleshed out the world providing us with suspenseful threads, secrets, history and nail-biting scenes. Her ease of storytelling allowed the outside world to slip away. She gave us strong, intriguing and fleshed out characters but also allowed the settlement and its oppressive rules to speak for itself creating tension and unease.  Ilyse is trying very hard to remain pious in preparation for her Bridal Auction but fears she might be calling the dead to her front yard.
If stories like the Salem Witch trials, The Forest of Hands and Teeth or Dearly, Departed excite you, then I think you'll love the world Frater has created. Magic, necromancy, oppression, fear, and zombies without gore made the story a page-turner. While I don't think this is intended to be Young Adult, the main characters are youths making it perfect for anyone.
The Unblessed Dead, first in the Hidden Necromancer series brought one suspenseful thread of this story to a close, but Ilyse's fate is very much left up in the air along with other threads. I had to wait a few weeks to get some answers, but for those picking this up today, book two, The Accused Dead,  is also available.  Do not read the synopsis to book two before reading book one.
Frater never disappoints, and The Unblessed Dead was an addictive start to the Hidden Necromancer series.
Frightening and suspenseful The Unblessed Dead by Rhiannon Frater was an addictive page-turner. #mustread #Zombies
Click To Tweet
Reading this book contributed to these challenges:
Related Posts