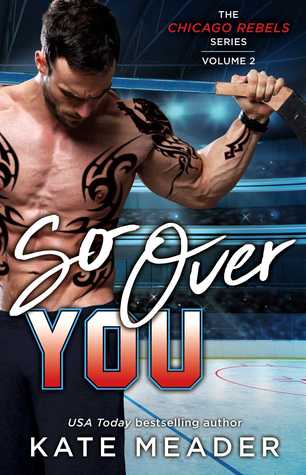 So Over You
by Kate Meader
Series: Chicago Rebels #2
Genres: Contemporary Romance
Source: Publisher
Purchase*: Amazon *affiliate
Rating:

Heat Level:

Three estranged sisters struggle to sustain their late father's failing hockey franchise in Kate Meader's sizzling Chicago Rebels series. In this second entry, middle sister Isobel is at a crossroads in her personal and professional lives. But both are about to get a significant boost with the addition of a domineering Russian powerhouse to the Rebels....

Isobel Chase knows hockey. She played NCAA, won Olympic silver, and made it thirty-seven minutes into the new National Women's Hockey League before an injury sidelined her dreams. Those who can't, coach, and a position as a skating consultant to her late father's hockey franchise, the Chicago Rebels, seems like a perfect fit. Until she's assigned her first job: the man who skated into her heart as a teen and relieved her of her pesky virginity. These days, left-winger Vadim Petrov is known as the Czar of Pleasure, a magnet for puck bunnies and the tabloids alike. But back then... let's just say his inability to sink the puck left Isobel frustratingly scoreless.

Vadim has a first name that means "ruler," and it doesn't stop at his birth certificate. He dominates on the ice, the practice rink, and in the backseat of a limo. But a knee injury has produced a bad year, and bad years in the NHL don't go unrewarded. His penance? To be traded to a troubled team where his personal coach is Isobel Chase, the woman who drove him wild years ago when they were hormonal teens. But apparently the feeling was not entirely mutual.

That Vadim might have failed to give Isobel the pleasure that was her right is intolerable, and he plans to make it up to her—one bone-melting orgasm at a time. After all, no player can perfect his game without a helluva lot of practice...
A broody, sexy Russian hockey player and a feisty trainer go head to head in So Over You by Kate Meader. The second novel in the Chicago Rebels series featuring three sisters and the hockey team that they are trying desperately to save. From the ice to the bedroom Meader delivers a heartfelt, emotion, sexy ride with characters you'll connect with.
So Over You features a second chance romance with a little twist. Isobel Chase and Vadim Petrov had a moment as teens before her father found out. She won an Olympic Medal before an injury ended her hockey career and is now a one-third owner of the Chicago Rebels. Vadim suffered a knee injury, and the team was able to trade for him. I laughed when I learned about their shared history and became caught up in the discussions, chemistry, and back and forth banter.
The romance quickly pulled me in with its laughter and chemistry before tugging at my heartstrings and connecting me emotionally. While this isn't a true second chance romance, it was powerful, sexy, sweet, and memorable.
I love that each book has the heroine grow. While Isobel deals with the team, siblings, and her coaching career she also reaches a crossroads when an opportunity to play again arises. I felt like the author understood what injured players face.
I love hockey, (Go FLYERS) but can honestly say I am not a huge fan of sports novel romances. Having said that, Meader has me caught up in the overall story arc. Conditions of a will, estranged sisters, and the hockey franchise have pulled me in. While not bogged down with sports talk, we do spend time with the team and get a sense of the inner workings of the arena and sport. We spend time with the players both on the ice and off. Meader has given us villains, supporting characters and obstacles to keep everyone in check. One hockey player is an arse, and I am curious as to whether there is more to his issues. The next book, which I am assuming is the final book will share the youngest sisters story and the fate of the Chicago Rebels.
So Over You delivered the heat and tugged at my heartstrings. A big city setting with a small-town feel you'll want to spend time with the Chicago Rebels.
So Over You by Kate Meader delivered the heat and tugged at my heartstrings
Click To Tweet
Related Posts