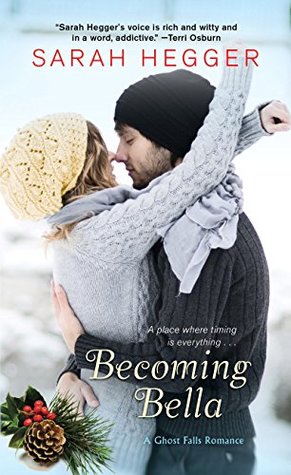 Becoming Bella
by Sarah Hegger
Series: Ghost Falls #2
Genres: Contemporary Romance, Romantic Suspense
Source: Publisher
Rating:

Heat Level:
This Christmas, a good reputation can really get in a girl's way . . .

As long as she can remember, Bella Erikson's been the unofficial sweetheart of Ghost Falls, Utah. And ever since Nate Evans dipped her braids in purple paint in the first grade, he's been her dream guy. Not that she minds the attention, but sometimes she wishes people saw more in her than just the girl who still has a crush on Sheriff Evans. She has a life after all, a new bridal shop to run, and more mature relationships to pursue . . .

Nate knows he's not good enough for sweet Bella. But he's pretty sure the new guy sending her heart emojis and giant bouquets isn't either. And when Bella's suitor turns stalker, protecting Bella isn't just Nate's instinct—it's his duty. Crammed together for safety and really talking for the first time in years, Bella and Nate can't fight the moment their chemistry turns into pyrotechnics. Whether it will burn them out or light up the sky, only time will tell . . .
This is the final day of the HoHoHoRAT and Sophia Rose is here to share Becoming Bella by Saah Hegger, a holiday romance. Grab a cup of cocoa and enjoy! As for me, I will see you at the Twitter Party tonight!
Sophia Rose's Review
Ever have one of those books that just takes you by surprise?  Yeah, Becoming Bella did.  And I mean that in a good way.  I formed some expectations from the blurb and the cover since this was a new to me author and series- cute, light women's fiction crossed with holiday romance- totally worthy selection to get some jingle into my jangle.  But, it morphed into something more and I perked right up and delved deeper as a result.
Becoming Bella tackles a heroine who has reached a crisis point in her life- not a huge epoch type of crisis, but one of those quieter impacts.  Bella has been following a rut in the road for a long time and has decided that this Christmas season it is time to break out of it- on her own- because life isn't just going to do it for her.
So she finds a 10-step action plan for Christmas as a single online.  And she goes for it.  Suddenly, she's decorating her home outside and in for the holidays, making friends with the neighbor she's always shamefully judged and looked down on only to find irascible Liz is a keeper, and also a compatriot in working through the 10-step list.
The one who starts on her radar again that is part of her life purge is her crush, the town sheriff, Nate Evans.  She's able to just keep the temptation of Nate away until she gets a stalker.
And that folks, is the point when this cheery and humorous women's fiction began digging deeper.  The author did a fab job showing this angle of abuse and how a serious, dangerous stalker can affect a person's life.  The attempt to control and hold power over through fear, impotence, and frustration on the side of the victim.  The author showed how people around the victim react to the presence of a stalker.  The grandmother's denial almost turned my stomach.  First, it was 'he's just really into you and you should be flattered' to thinking, but just stopping short of saying (and only because Bella's friend stopped her) 'it's your own fault for encouraging him and leading him on'.
The romance conflict was also a tough one.  Nate definitely needed a knot jerked in him.  He has this thing where he was a wild teen and was the black sheep of the family who acted out over his dad's death.  He thinks he can't stick it out for a relationship and gets the rep of a player.  He pushes Bella away so much and then gets angry and jealous when her attempt to come out of her shell and the issue with the stalker brings other men into her life.  Does he ever get a clue?  Let's just say, he held onto the stupid past the expiration date and found he had his work cut out for him.
I think the last several pages of a survivor recovering from a dark experience was probably the most enlightening and riveting part of the story for me.  Oh no doubt, hands down, the lusty, larger than life Liz and her antics paired with the quirky diva Philomene were a hoot, but I loved that the humor is balanced with this other.
As to the holiday theme.  Yes, it is there- and it is obviously the catalyst at the beginning of the story, but it's more a minor side element running in the background.
I was beguiled by this second of the Ghost Falls stories and I definitely want to go back for Positively Pippa and hope to catch more stories that I saw brewing in this one.  Becoming Bella can easily be read out of order or as a standalone.  I think the target audience will be a person who doesn't mind a story taking its time winding out and for a mashing up of women's fiction and romantic suspense.
Becoming Bella by Sarah Hegger morphed into something more than a holiday romance.
Click To Tweet
Stay Caffeinated!
Never miss a post by adding Caffeinated to your Inbox
Your email is not shared and you can unsubscribe at any time.