Today I am sharing coffee pot reviews of books I have read from my TBR pile. It's a mix of books, authors, and genres. I hope you find your next read.
Welcome to Havenport
by Ruth A. Casie, Lita Harris, Nicole S. Patrick, Emma Kaye
Genres: Contemporary Romance
Source: Purchase
Purchase*: Amazon *affiliate
Rating:
Get the latest with Havenport Herald's very own gossip queen, Candy Apples. Gossip with a snarky, tart bite… SUMMER'S HEATING UP!

After a much-needed revamping of The Final Chapter, resident sweetie Olivia Baxter has reopened the bookstore as A New Chapter—and launched Serendipity, a metaphysical shop next door. But that's not all she's been up to. The grapevine tells me that cutie Max Porter is back in town, and they've made an intimate connection. Sounds intriguing. After all, there's nothing better for New Beginnings than young love…

Rumor has it Christa Morrow skipped town on that hunky Jeremy Pearce months ago. Heard he wasn't so faithful. Now she's back…and I love to see a man grovel. There's something strange in the air around these two. A little magick? Hocus-pocus, and maybe they'll be a couple again. Can't wait to watch. Christa might just be able to get Jeremy back and Under Her Spell.

Did you hear Beth Holmes and JD Watson are in town? Will sparks fly? Only if it's the ones between these two lovebirds. Pick up autographed copies of their latest best sellers at their tent. Now those two should craft a book together. He writes compelling mystery and her steamy stuff is to die for. Adventure on the horizon? Who knows…maybe The Game's Afoot.

I'll be keeping my eye on Augusta Moore, owner of Wags and Walks, who'll have a tent set up for the animal shelter during the July Fourth festivities.
Why isn't she attached? She's irresistible with those furry cuties she helps get adopted. And don't forget to cheer for our very own Evan Washburn in the parade. The hunky Marine can save me any day. Who doesn't love a man in uniform? He's throwing his hat in the ring for town council, too. Havenport could benefit from a Hometown Hero. Hmm…sounds like a match made in Havenport heaven…

Enjoy the July 4th parade and celebration, including vendor tents, food and Mayor Henry to kick things off. Fireworks display over the harbor starting at 10PM. (weather permitting) Happy July 4th!
 - Candy
Welcome to Havenport is a collection of novellas all involving the town of Havenport Rhode Island. I love when books are connected and having all of the stories weaved around the small seaside town was delightful.
New Beginnings by Lita Harris, takes us to the bookstore where Olivia is revamping the Final Chapter bookstore along with launching Serendipity (a metaphysical shop) next door. The story shares opening jitters, family drama and her relationship with Max Porter who is searching for his biological parents. The characters have a prior history, and I felt like this story picked up from another novella in the Timeless series. Nevertheless, it introduced us to Havenport and was interesting.
Under Her Spell by Emma Kaye, delivered a second chance romance and brought us a little Wiccan magic and suspense. Christs ran off after sleeping with and confessing her love to Jeremy, but it is a bit more complicated than that. When she returns home and finds Jeremey professing his love she thinks, it's a spell. However, there is danger afoot. I enjoyed this story and loved the unexpected paranormal elements.
The Game's Afoot by Ruth A. Casie shares the story of bestselling local author Beth Holmes. She has teamed up with JD Watson to write a series of crime thrillers. The two are romantically involved, and Cassie did a fantastic job of connecting us. The story has a suspenseful element as Beth accidently records something while researching for their book.
Hometown Hero by Nicole S. Patrick was perhaps my favorite of the set. A former Marine and a pet groomer who could ask for anything more? This is a new romance, with a little suspense and cute puppies. Patrick had me smiling and swooning
Legal Desire
by Jessica Jayne
Genres: Contemporary Romance
Source: Purchase
Purchase*: Amazon *affiliate
Rating:
Derek Sage doesn't mix business with pleasure—certainly not after he's been burned. Being one of the top plaintiff's attorneys in the Tampa Bay area requires focus and he can't afford to lose that focus again. But a difficult case has Derek looking to a new attorney for assistance and she brings more than her legal expertise to the table.

Raina Dillon spent her first couple of years as an attorney at the public defender's office, defending criminals and learning more than she ever imagined. Now, she's ready to take on the legal world at one of the Tampa Bay area's premier law firms. What she doesn't expect is Derek Sage.

Can they put their attraction aside or will it consume them?
Legal Desire offers up a hot office romance with a little drama, a whole lotta heat, and plenty of heart. While this is a novella, Jayne gave us the full story.  Their story begins as pure attraction and gives way to something more. Derek is all alpha and oozes sexuality, but I loved getting his backstory. If you are looking for a steamy read with substance Legal Desire is the perfect quickie.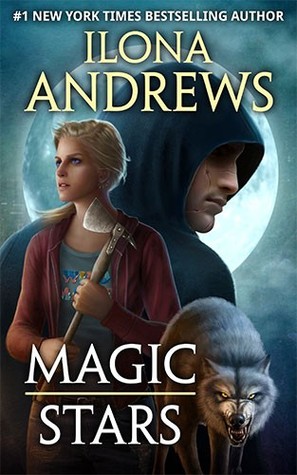 Magic Stars
by Ilona Andrews
Series: Grey Wolf #1, Kate Daniels #8.5
Narrator: Jeffrey Kafer
Length: 2 hours and 1 minute
Genres: Urban Fantasy
Source: Purchase
Purchase*: Amazon | Audible *affiliate
Rating:

Narration: 4 cups
From award-winning author, Ilona Andrews, an original novella, set in the New York Times #1 bestselling Kate Daniels World and featuring fan-favorites, Derek, and Curran and Kate's very independent ward, Julie.

Scarred, solitary Derek Gaunt has separated from his Pack, and is truly a lone wolf. With no family he answers to no one; but is fiercely loyal to a chosen few. So, when several of those close to him are murdered, he'll stop at nothing to hunt their killer through the magic-drenched streets of Atlanta.

Never one to be left on the sidelines, equally determined—some might say stubborn—Julie Lennart-Olsen soon joins in his pursuit; and what began as revenge turns into a race to save the city. Their search pits them against powers they never imagined and magic so old, it predates history. It may cost Derek his life, but there are things for which even he would risk everything.
Magic Stars is a novella in the Kate Daniels series and the first Grey Wolf series. Fans of the series, know Derek Gaunt the lone-scarred Wolf and Julie, Kate and Curran's young ward.
Tell me you haven't wanted to get inside Derek's head. Well, in Magic Stars we do as he is working a contract regarding a murder that has left an entire family slain. I have always liked Derrek. He is strong, kickass and his interactions have been memorable. It was nice, seeing the man/wolf behind the façade.
Julie Lennart-Olsen, Kate's sixteen-year-old ward appears and oh man; do we learn so many things. I enjoyed spending time with her. Getting to know her strength while I thought to myself Kate is going to kick your ass. I will say she impressed me and I believe Julie will be a force.
The overall arc of Grey Wolf surrounds rocks, yep, rocks and some old magic. This thread will continue, but I wasn't even bummed I would have to wait.
Julie and Derrek have excellent chemistry and work well together. I will be curious to see what develops when Julie is of age.
Narrated by Jeffrey Kafer, the Andrews team, packed a lot of punch into this story. I was nervous that it wasn't Renee' Raudman narrating, but Jeffery was the perfect choice for Derek, and I cannot wait to listen to the next one.
Magic Stars is a must read for fans of the series. Having completed Magic Burns as well, I recommend reading this first but either way, do not miss out.
Related Posts