I have been thoroughly enjoying the Witchless In Seattle series by Dakota Cassidy. Today I am sharing my thoughts on Quit Your Witchin' and Dewitched  the second and third books in the series. I have been listening to the books on audio and Hollie Jackson captures the humor of this series perfectly. Filled with snark, and feisty characters Cassidy shares the misadventures of Stevie Cartwright, her familiar Belfry and resident British ghost spy Winterbottom as they investigate murders.  Hilarious and addictive I hope you check out these audios.
Quit Your Witchin'
by Dakota Cassidy
Series: Witchless In Seattle #2
Narrator: Hollie Jackson
Length: 6 hours and 3 minutes
Genres: Mystery, Paranormal
Source: Publisher
Purchase*: Amazon | Audible *affiliate
Rating:

Narration: 4 cups
Hello again! It's me, Stevie Cartwright, ex-witch and new Madam Zoltar. I was fresh off the murder-suspect list and just settling into Madam Z's psychic medium shoes-with the help of my bat familiar Belfry and spirit spy Win-when another death rocked sleepy little Ebenezer Falls, Washington state. Tito Bustamante, my beloved purveyor of mouth-watering Mexican munchies, has been found dead in the food truck court. Rumor has it that Tito was stickin' his chimichanga where it didn't belong, and my gut-not to mention his less-than-natural death-says murder. No one is above suspicion. Not Tito's own wife and daughter, not his arch food truck enemy Jacob, and certainly not the son Tito didn't know about, newly arrived in Ebenezer Falls and getting cozy with my hired help. Do join me (and try not to point and laugh) as I juggle catching a killer, snooping for clues about Win's previous life, gabbing with and eavesdropping on the locals, and enduring a visit from my very unwelcome, very annoyingly gorgeous ex-coven leader-all while continuing to adjust to my new witchless existence.
Quit Your Witchin' the second book in Dakota Cassidy's cozy paranormal mystery series picks up shortly after Witch Slapped.

Quit Your Witchin' picks up shortly after Witch Slapped ends. Stevie is now the owner of Madam Zoltar's shop and with the aid of her British ghost, she is contacting the dead.
When Tito Bustamante is found dead near his food truck, not only does Stevie mourn the loss of his mouth-watering Mexican munchies she soon finds herself investigating his murder. Look out, Ebenezer Falls. Oh lord, but this ex-witch sure does get herself in trouble and I had such a blast listening to this tale.
Cassidy delivers a colorful murder mystery with a long list of suspects and it was fun watching this motley crew gather clues or should I say watch Stevie get herself into one pickle after another.
While Quit Your Witchin' focuses, on the current mystery we do learn more about Stevie's life as a witch. Meet her ex-coven leader and are rewarded with some interesting tidbits. Stevie also spends some time learning about her resident spirit Winterbottom, has a terrifying experience with the afterlife and surprises us while under duress.
Hollie Jackson narrates and her voice perfectly fits Stevie. She does a splendid job of enhancing the humor of this series. I love her voice for Winterbottom; she nails his British accent and tone. Some series are perfect for audio and Cassidy's writing style and humor translate wonderfully on audio.
If you are looking for a light, funny murder mystery with a lively misfit crew, I recommend the Witchless in Seattle series.. At around six hours of listening, it is the perfect audio for a short trip, daily commute or listening while tackling those mundane chores around the house.
Quit Your Witchin' was addictive and funny. I cannot wait for more.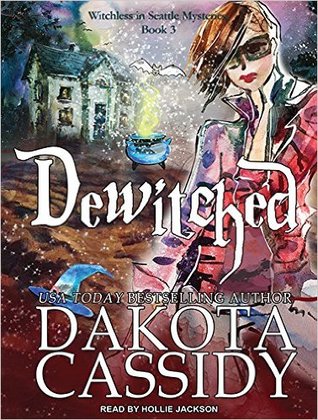 Dewitched
by Dakota Cassidy
Series: Witchless In Seattle #3
Narrator: Hollie Jackson
Length: 6 hours and 34 minutes
Genres: Paranormal, Mystery
Source: Publisher
Purchase*: Amazon | Audible *affiliate
Rating:

Narration: 4 cups
"It's nice to meet you, Mr…er, stage, screen, and Japanese film star, but party…and thirty-two years, actually almost thirty-three now. And um, stuff…to do… So, talk later. I mean, you and me. M'kay? Gotta go."

Ebenezer Falls, sleepy fishing village or murder central? The game's afoot in Dewitched from USA Today bestselling cozy mystery author Dakota Cassidy as Stevie, the powerless witch (or is she?), her bat familiar Belfry, and resident British ghost spy Winterbottom, hunt for a killer. Book 3 of the Witchless In Seattle Mysteries is a thrilling whodunit, and this time, it's personal!

I, ex-witch Stevie Cartwright, do hereby solemnly swear to avoid future murder-mystery shenanigans, nosiness, tomfoolery, and any further crazy killer inflicted pain to my person, so help me goddess…

Hah! Like I could help myself? But after busting my butt (literally!) on the last murder case in my beloved hometown of Ebenezer Falls, WA, I could use a nice long break. I was determined to take the time to enjoy the company of my bat familiar, Belfry; my British ex-spy ghost, Win; our adorable St. Bernard rescue, Whiskey; and of course our gorgeous home, Mayhem Manor, freshly and lovingly renovated.

Until shazam—a dead man invites himself to our fancy housewarming party! When my mother's husband number five ends up deep-sixed in my parlor, it's not like I can't NOT try to solve this mystery, right? Especially if I ever want Mom to leave so I can get back to my semi-peaceful existence.

But our work is definitely cut out for us this time. With Belfry's rascally bat family visiting and the two hundred or so guests, acrobats, mimes, cooks, catering staff, orchestra members—and a surprise guest who throws me for a loop in the house—suspects sure aren't a problem.

Looks like it's time for another spirit-filled, witchless adventure in Ebenezer Falls!
Dewitched the third Witchless in Seattle novel by Dakota Cassidy offers another murder mystery filled with mayhem, danger and tomfoolery as Stevie Cartwright and her motley crew find them investigating her step father's murder. Witches, warlocks, and ghosts come to life as Hollie Jackson brings us the voice of these humorous and lovable characters.  I had a blast listening as Stevie found herself in a pickle and Cassidy advanced the overall ARC.
After the last local murder, Stevie is hoping for a return to normalcy. If normalcy is, a swanky housewarming party that her ghost, Win convinced her to have. It's a party complete with acrobats, orchestra members, and ice sculptures. She has invited all the townsfolk and Lord help her, even her mother. By now, the reader/listener knows that Stevie's life is anything but normal. As the caterers set up, and the orchestra begins to tune their instruments, Stevie gets a surprise visitor and in the next breath learns that Belfry's family is arriving TODAY. Could things get worse? How about murder, in the dining room with a…wait that's CLUE, however, there is a murder and her own mother becomes a suspect.
In case you haven't guessed, I am thoroughly enjoying the Witchless Seattle series. Each book involves a new murder mystery that Stevie ends up getting involved in whether it is to clear her name, help a friend or in this case clear her own mother. Cassidy weaves an interesting case filled with plenty of suspects, local law enforcement, and spiritual entities.
As Stevie investigates, we meet town folk and learn about our characters. In Dewitched, we learn more about the warlock, who took Stevie's powers, meet the parents, spend time with Belfry's wild and crazy relations and learn more about ex-spy and resident ghost Winterbottom. Cassidy does all this while weaving in hilarious banter, Stevie's commentary all on Win's smooth guidance. I love the little things, like the banter between local law enforcement and Stevie as she investigates.
Cassidy delivers danger, twists and surprise suspects as Stevie snooping soon makes her a target. Secondary threads involving a certain Warlock, Win and the stranger who visited enhanced the overall ARC and kept me listening. While the murderer ended up surprising us, I enjoyed how Cassidy tied it all together.
Whenever I listen to this series, I know I am in for a treat. Hollie Jackson's voices for the characters from Win's British accent to Belfry's high-pitched squeals are brilliant. Cassidy's snarky protagonist and slapstick humor lend themselves perfectly to the audiobook format. I cannot imagine simply reading these stories.
Addictive and fun Dewitched was another entertaining edition. I cannot wait for The Old Witcheroo and The Witch Who Stole Christmas to release on audio.
Quit Your Witchin' and Dewitched by Dakota Cassidy hilarious murder-mysteries perfect on audio.
Click To Tweet
Related Posts